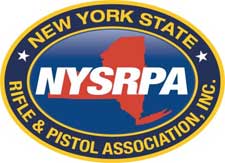 New York –-(Ammoland.com)- The suit Razzano V Cuomo has failed to produce an injunction or any other effect to restore our Second Amendment rights.
That leaves the NYSRPA's suit as the only viable suit. People have criticized us for spending so much money to initiate the suit, critiquing the basis upon which we prosecuted our litigation, the court we chose, for the initial filing and the lawyers we hired for the litigation.
Yet the NYSRPA's is the last case standing, Why? We didn't undertake this endeavor to grow our association, make headlines or disrespect others; we did it to win and restore our Second Amendment rights. No more no less.
We chose the best attorneys, we partnered with the right plaintiffs and as the NRA affiliate in NYS we had the expertise of the premier 2nd Amendment group in the world backing the NYSRPA. Most of all we had the great 2nd Amendment supporters of New York State supporting our effort.
We never promised you a victory all we promised was a fight to the end and to that we are still committed. We never held spurious press conferences to give you false hope. We reported what happened when it happened. We believe that's what a member driven association is about; telling the truth to our members and the 2nd Amendment Community.
The suit is currently in the 2nd Circuit Court of Appeals awaiting the briefing deadline for both sides. Can we promise a victory? We can't, remember current SCOTUS member Sonya Sotomayor was appointed to SCOTUS from this court.
That said we have from the start prepared and developed this case as one bound for the Supreme Court and we all still believe that is possible and continue to work toward that goal. Part of that preparation is public opinion, even Supreme Court Judges read the papers and listen to the news, that is why we have been fighting to keep public statements to a minimum and civil with no threats.
Early in this process the State used comments taken from the February 28, 2013 Rally in an attempt to block NRA participation during an oral arguments. We prevailed but it was close and that's why our attorneys have been demanding we don't participate in large rallies at the Capital. As you will undoubtedly remember the NYSRPA has not directly participated in any rally since that date. That does not mean we don't support them if we are asked to. Absolutely not! Last April at the rally where Judge Janine wowed the crowd with her inspiring presentation; the NYSRPA paid her fees and expenses. We are involved when asked.
This is not a popularity contest it is a battle to the end and "we are in it to win it" in any way possible but we believe at this time the Courts are our only hope. Please continue to help support our lawsuit!
Ask yourself; WHAT ARE MY 2nd AMMENDMENT RIGHTS WORTH?
Tom King
Win Quiet, Lose Loud!
About:
The New York State Rifle & Pistol Association is the state's largest and oldest firearms advocacy organization. Since 1871, our organization has been dedicated to the preservation of Second Amendment rights, firearm safety, education and training, and the shooting sports. Our membership consists of individuals and clubs throughout the state. We are a not-for-profit 501(c)4 organization and the official NRA-affiliated State Association in New York. Visit: www.nysrpa.org