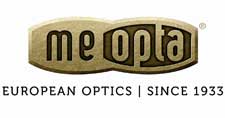 HAUPPAUGE, NY –-(Ammoland.com)- This sleek new spotter features an 80mm fluoride objective lens and MeoBright ion-assisted multi-coatings for outstanding performance in low-light conditions.
Designed to meet a lower price point than Meopta's European-made MeoStar S2 82mm spotting scope, the MeoPro HD 80 has an angled body and integrated 20-60x eyepiece.  Its CentricDrive™ mid-body focus control is easy and fast to use in the field, even with gloves on, and the image quality is crystal clear making it easy to assess game at long distances.  Like all other optics in the MeoPro line, the HD 80 is assembled in the United States at Meopta's Long Island, NY facility.
"This new spotting scope is the first in our popular MeoPro line and is made for hunters who want a mid-range price point but are simply unwilling to compromise on performance," said Reinhard Seipp, general manager and COO of Meopta USA.

"We chose to go with a fixed eyepiece in order to lower the cost and not compromise on quality.  In fact, we have incorporated a lot of the technology from our state-of-the-art MeoStar spotter into the MeoPro HD 80 such as Schott glass, the fluoride objective lens, CentricDrive focus that allows for fast adjustments from close ranges to extended distances, and the rugged, fully- armored magnesium alloy chassis.  The overall performance of the Meopta HD 80 – the superior color fidelity, edge-to-edge clarity and sheer brightness and quality of the images – will give hunters a top-tier scope view at a great price point."
The MeoPro HD 80 works seamlessly with Meopta's MeoPod TP-1 tripod and also with the MeoPix iScoping Adapters for the iPhone 4 and 5 models and Samsung Galax S4.  Its rotating, integrated tripod foot also works with most tripod interfaces on the market without the need for an adapter.
Nitrogen filled, waterproof and shockproof for maximum durability, the new MeoPro HD 80 will enhance any trip afield.
MSRP: $1,724.99
Specifications
Objective Lens (mm):80mm fluoride lens
Eyepiece:         Integrated 20x-60x eyepiece with twist-up eyecup
Body type:         Angled
Lens Coatings: MeoBright, MeoShield
Length w/eyepiece (in): 14.36 in
Weight (oz):         67.2 oz
Close Focus (ft):         18 ft
Focus control:         CentricDrive, oversized, mid-body
Focus rotation:         2 rotations from close focus to infinity
Chassis material:        Magnesium alloy
Armor:         Full rubber armor
Tripod Collar:         Rotating, integrated tripod foot (no adapter required)
Waterproof:         yes
Nitrogen Purged:         yes
Shockproof:         yes
Exit Pupil (mm):         Min – 1.4mm,  Max – 4.05mm
Eye Relief:         Min – 18mm,  Max – 20mm
FOV (degrees):         Min – 1.2º,  Max – 2º
FOV ft. @1000 yds. Min – 63 ft.  Max – 105 ft.
Apparent FOV (degrees):Min – 40º,  Max – 60º
MeoPro 80 HD Spotting Scope Key Features
Built in the USA
TO2TM (Twilight Optimized Optics) system delivers the highest light transmission when you need it most – in the low light of dawn and dusk.
Proprietary ion assisted lens coatings. MeoBrightTM coating eliminates glare and reflections and delivers incredibly bright (98.7% transmission per lens surface) and sharp images across the field of view. MeoShieldTM coating protects external lens surfaces from abrasions and scratches.
HD Fluoride objective lens element eliminates chromatic aberration (CA) or color fringing by bringing light wavelengths into a single common focus along the optical axis – delivering maximum resolution and vivid color fidelity in challenging lighting conditions.
Centric Drivetm is an oversized, mid-body focus control featuring a large rubberized wheel that is easy to manipulate for fine focus requirements or when moving rapidly from close subjects to extended distances. CentricDrivetm is comfortable to use and easily accommodates users wearing thick gloves or users with limited grasping ability.
Integrated tripod foot works with most tripod interfaces without the need for an adapter.
Covered by Meopta's North American Lifetime Transferable Warranty.
About Meopta
The Meopta Group is a U.S. family-owned, multinational company with facilities in the United States and Europe. Founded in 1933 in Czechoslovakia (now the Czech Republic), Meopta is a leading manufacturing partner to many of the world's finest optical brands. In their Czech facility, Meopta conceives, develops and manufactures precision optical and electro/optical systems for semiconductor, medical, aerospace and military industries as well as for consumer markets. In their New York plant, precision optical products are manufactured and assembled to exacting standards in clean-room environments for the military, industrial and consumer markets.
For more information regarding Meopta, please visit www.meoptausa.com