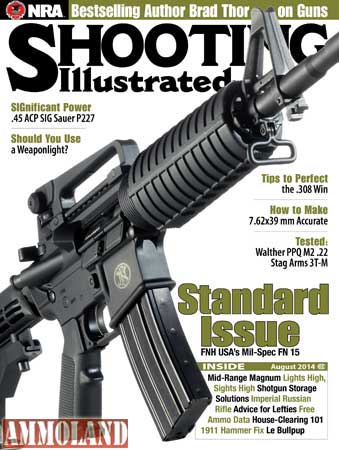 FAIRFAX, Va. –-(Ammoland.com)- The August issue of Shooting Illustrated, on newsstands now, features special-guest columnist Brad Thor explaining his choices for the guns and gear used in his novels, like the recently-released "Act of War" ( http://tiny.cc/qbv1ix ) .
The New York Times best-selling author prides himself on equipping his characters with the best firearms and accessories available, based on consultation with some hard-hitting folks who have been there, done that. Read excerpts from "Act of War" and see what gear makes the grade in Thor's universe.
The FNH USA FN 15 could be one such piece of gear. This semi-automatic carbine is a carbon copy of the military's M4 (minus the giggle switch, of course), and FNH USA is now offering it to the shooting public. If carrying the carbine our warriors bring into battle interests you, read up on the performance of the FN 15 in Rifle Editor Steve Adelmann's exhaustive test.
Adelmann pulls double-duty in this month's issue, not only giving his impressions of the FN 15, but also in detailing advances in a different type of AR-15—those chambered in a round much more commonly associated with the mortal enemy of the AR, the AK-47. The 7.62×39 mm cartridge has long suffered a reputation as a less-than-accurate round, and Adelmann definitively proves it is the platform, not the round, responsible for those criticisms. His work with AR-15-pattern rifles chambered in 7.62×39 mm show it can be as accurate as the AR's more common 5.56 NATO fodder.
For those looking for a new sidearm, SIG Sauer's P227 is a sturdy option chambered in .45 ACP. Approximately the same size as the company's storied P226, the P227 offers .45 ACP in a double-stack magazine, increasing capacity of the larger caliber. And, since we're talking about larger calibers, Bryce M. Towsley offers up some winning handloads for the .308 Win. See what recipes will wring the most out of a favorite mid-range round.
Look for these articles and much more in the August issue of Shooting Illustrated,
The Definitive Source for the Modern Shooter, at a newsstand near you. You can also subscribe by calling (877) 223-3840. Or subscribe online through Amazon: http://tiny.cc/mgduyw
For more information: visit www.ShootingIllustrated.com .