By Major Van Harl USAF Ret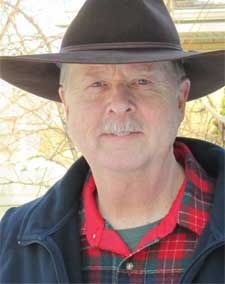 Wisconsin –-(Ammoland.com)-  There is evil, there is spouse and child abuse, there is persecution of minorities, there is post traumatic stress syndrome, there is class envy and class hatred, there is oppressive power held by religious leaders and political leaders over the masses, there is murder, animal abuse, harsh living conditions,,,
and there is as always, Russia in the background.
Pick any one of a dozen western European countries and all of the above could and does apply. In this case we are talking about Sweden, but not current modern Sweden. The new book Wolf Winter ( http://tiny.cc/2nvvwx ) by Swedish author turned Canadian, Cecilia Ekback (www.ceciliaekback.com) takes place in 1717, in the northern Lapland area of Sweden.
Sweden is once again at war with Russia and this time not doing so well. There is ever increasing taxes and the demand for more from the shrinking male population to join the King's army and fight the Russians. A family leaves Finland to take up a homestead farm in northern Sweden on land that originally was occupied by the Lapps.
Lapps of Lapland, home of the Reindeer herders, a term not used in modern Scandinavian, now you would call these people Sami (pronounced Saw-mee). The Swedish government pushed its people to move as far north as survival would allow to allegedly grow and prosper, when in fact it was to help subjugate the Lapps and increase the tax base.
People who had no business living in the arctic would struggle to try and struggle and die, while all the time displacing the local Lapps who had successfully thrived in the cold harsh northland for perhaps 10,000 years.
The problem is why successful, prospering (read normal) Swedish citizens should want to leave a warm (very important) comfortable life in the south of the country, to try and eke out an existence in a land that can kill a person in thirty minutes in the middle of winter, if you fail to understand the dangers, both man made and nature's cruel wrath?
But, just as immigrants to North America pushed out into the unknown while displacing the local indigenous population, the southern Swedes pushed north into Lapland with many of the same negative effects on those locals and themselves.
In the Swedish interpretation, the term Wolf Winter refers to a very harsh, perhaps brutal winter based on nature's unforgiving elements. It also can mean a "dark" time in human being's lives.
Wolf Winter is fiction but it is historically very accurate. Whether or not that dark time is because nature is so unforgiving, or man is so vicious, is what Cecilia Ekback effectively explores in her first book. I would suggest it is both, and Ekback does exceptionally well at exposing her characters to the hard and dangerous life that the frozen north throws at humans, and the perhaps even harsher and more manipulating cruelty of man.
The book is a murder mystery that takes place on a Swedish mountain that both the Swedes and the Lapps feel is surrounded, or even possessed, by evil. The unlucky ones tend not to survive the elements, and in some cases it is even better for the lucky ones to also not survive.
The Colonel found this book at the local library and based on the cover having a winter scene and a wolf on it she handed it to me with a suggestion to read. I spent seven years of my life in Alaska and understand living in the cold frozen north. As a military and civilian cop I have worked my share of homicides. Very recently it was revealed to me through testing I have Sami DNA.
Reindeer are domesticated caribou and while living in Alaska I enjoyed many a caribou steak cooked on the grill. I think the book was calling me. I called Cecilia Ekback in Calgary, Alberta, Canada, she told me about writing the book and her discovering a much larger percentage of Sami DNA in her family line.
Currently I am very concerned with what Putin and his Russians are up to in Europe. I believe he will try to take back the Baltic States and do this by invading Sweden. Ekback told me they are always concerned about the Russians. Wolf Winter takes place almost 300 years ago, but some things like cruelty, evil, desperation, greed, the loss of hope, and the Russians never change.
Ekback captures this in a story that holds the reader to the end. Survival demands preparedness and I hope modern Europe and especially Sweden and the Baltic States are preparing.
Hard times and evil are coming again—they call that a Wolf Winter.
Major Van Harl USAF Ret. / [email protected]
About Major Van Harl USAF Ret.:Major Van E. Harl USAF Ret., a career Police Officer in the U.S. Air Force was born in Burlington, Iowa, USA, in 1955. He was the Deputy Chief of police at two Air Force Bases and the Commander of Law Enforcement Operations at another. He is a graduate of the U.S. Army Infantry School.  A retired Colorado Ranger and currently is an Auxiliary Police Officer with the Cudahy PD in Milwaukee County, WI.  His efforts now are directed at church campus safely and security training.  He believes "evil hates organization."  [email protected]