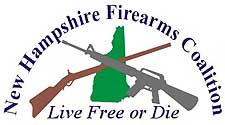 Milford, NH –-(Ammoland.com)- We are sending you this call to action because we have just learned that the New Hampshire legislature is about to remove an important legal protection often used in self-defense cases — without any public hearing!
What has happened is this: the New Hampshire House finance committee has added changes from SB-124 to HB-2, the finance amendment. This change was buried on page 967 of last Friday's House calendar, and voting could take place as soon as Wednesday!
What this bill proposes to do is to give jurisdiction over all felony cases to the New Hampshire Superior Court. On the surface this seems like it would streamline the processing of felonies by the courts. But, keep in mind that most self-defense cases involving a firearm are charged as felonies. Now, instead of being entitled to a probable cause hearing in District court, where charges could be dropped, defendants would have to proceed immediately to a costly high-stakes trial.
A public hearing on this change was already scheduled for April 16th 2015, but if added to HB-2 the hearing will be a farce, because the changes will have already been approved by the legislature!
Let us explain why a probable cause hearing is so important in self-defense cases. A probable cause hearing is a hearing with sworn testimony in District court where a judge, defendant, prosecutor, and any victim or witnesses are present. Defendants can subpoena witnesses to testify at this hearing. The purpose of the hearing is for the prosecutor to establish that (1) a crime has been committed, and (2) that there is probable cause to believe that the defendant may have committed it. The prosecutor has the burden of proof to demonstrate probable cause, and since such a hearing may end in dismissal of the case, it's possible for the defendant to avoid the cost of defending his or herself in a full trial.
But with this change, defendants will have to beg an unelected, unaccountable Superior Court judge to hold a probable cause hearing, or whether they will proceed directly to an extremely expensive all-or-nothing trial.
Imagine being victimized twice — first by an aggressor threatening your life or your loved ones, and having to use force to save them — then being victimized a second time by an anti-gun prosecutor who wants to make an example of you, causing you to have to sell your home and spend your whole life savings defending yourself in court, even though he may not be able to show that a crime has been committed!
That's simply not acceptable. It's not the New Hampshire way. Call and email your State Reps and tell them how upset you are that they would consider taking away such an important right — the right to a probable cause hearing — away from defendants, using a finance amendment buried in the House calendar, without even so much as a public hearing. Be polite, but firm, and ask them to support the expected action on the House Floor on Wednesday, April 1 to stop this.
Click here for contact information for all State Reps.
Thanks for your support.
In Liberty,
About New Hampshire Firearms Coalition:
The New Hampshire Firearms Coalition is New Hampshire's only No Compromise Gun Rights Organization. While many so-called "gun rights groups" work to curry favor with politicians and the media, NHFC is working aggressively to hold politicians accountable and to put a stop to gun control. Visit: www.nhfc-ontarget.org