One of our members was illegally disarmed, harassed, detained, searched, and trespassed by Tampa Police at a Florida Carry Event.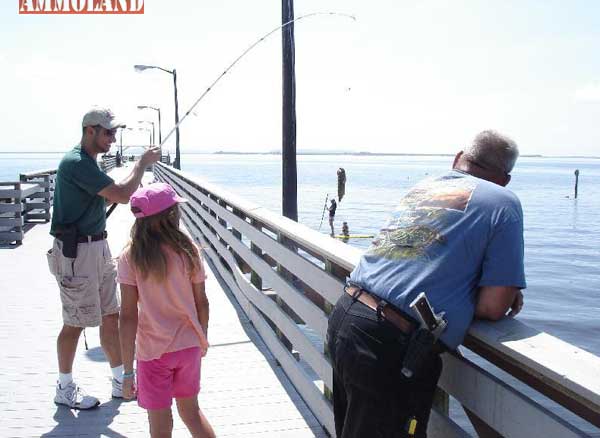 Florida – -(Ammoland.com)- Since 2010 Florida Carry members have been going fishing and lawfully carrying unconcealed handguns in Florida. There has NEVER been a real problem until now.
Open Carry is completely legal while fishing in Florida.
Last weekend one of our members, George Freeman, was detained for over an hour after a Tampa Police Officer unsuccessfully attempted sneak up behind him while fishing and grab his holstered handgun. George turned immediately when he felt an unknown person grab for his gun while reaching for a concealed backup gun. As soon as he saw the uniformed officer George stopped before he drew his backup and did not resist the seizure of his handguns. He also presented his valid Florida Concealed Carry License to the officer.
This extremely dangerous and uncalled-for move by the police officer to seize George's legal handgun didn't end once the officer found out that Mr. Freeman was not doing anything wrong.
After detaining our member for over an hour the police realized that they could not find any crime to charge him with. So they issued him an order, a trespass notice that prevents him from going to the public pier at Ballast Point for one year.
George Freeman was NOT breaking any law but he was banned from the city pier for exercising his Second Amendment Right to Bear Arms.
This happened at the same park that we have often used as a venue for our MONTHLY Open Carry Fishing Events since 2010 with the full knowledge of the City of Tampa and prior coordination with the City Attorney and the Police Department.
The Tampa Police also questioned Mr. Freeman in an attempt to determine the identities of our other members. A clear violation of their First Amendment Right to Associational Privacy and Right of Peaceful Assembly.
The State Florida preempts local firearms related policies, trespassing lawful gun owners from public property is against the law. It was also a violation of George's constitutional rights.
This will not go unanswered. We are in the process of filing a lawsuit to enforce Florida's Firearms Preemption Law, the Constitutionally Protected Rights of our members, and to have Mr. Freeman's trespass order, search, and seizure ruled illegal.
We need your help! Filing the lawsuit will cost approximately $650 for filing fees and service of process. Depositions, court reporters, transcripts, etc… will run about $1,500 more. We always expect to end up in the Court of Appeals. This requires additional filing fees and litigation related costs for things like travel, and other necessary expenses. Our lawyers are working on a contingency basis, in other words they don't get paid until we win. We expect to need at least $5,000 to see this case through.
A Tampa Police Department spokesperson issued the following statement in the media today after the incident became public:
"It was an error on the officers' part. The trespass warning will be rescinded and we are working to contact Mr. Freeman's to apologize to him.

Officers are being reminded that open carry of a firearm while fishing is legal in Florida."
Florida Carry immediately emailed the Tampa Police Department with contact information for Mr. Freeman's attorney. There was no response to the email and his attorney, Eric Friday, has no record of a call being made to his office by anyone with the City of Tampa. The trespass notice has, to our knowledge, not yet been rescinded. Regardless, a simple apology is an insufficient remedy for the violations of civil rights and Florida law suffered by George Freeman, Florida Carry, and our members.
We have a lot of experience with these types of cases.
Please help us defend the right to bear arms in court once again.
https://www.gofundme.com/DefendingRKBA
Florida Carry is a Not-For-Profit Corporation incorporated in Florida. 501(c)(4) status has been applied for, donations are not deductible for tax purposes.
Join or Donate Today! We need your help!
Florida self-defense laws are under unprecedented attack. Florida Carry is fighting back hard in local government, the courts, and the state legislature but cash and volunteer action is necessary to support this important work. Please donate or Join Today.
About:
Florida Carry is a non-profit, non-partisan, grassroots organization dedicated to advancing the fundamental civil right of all Floridians to keep and bear arms for self defense as guaranteed by the Second Amendment to the United States Constitution and Article I Section 8 of the Florida Constitution. Florida Carry, Inc. was organized by a group of Florida gun rights activists in order to better coordinate activities, effectively lobby the state legislature, and to provide a legal entity capable of filing suit to demand compliance with state and federal law. Florida Carry stands only to represent our members and the over 6 million gun owners of Florida. We are not beholden to any national organization's agenda that may compromise that mission.
Florida Carry works tirelessly toward repealing and striking down ill-conceived gun control laws that have been proven to provide safe havens to criminals and be deadly to law abiding citizens.
Florida Carry
www.FloridaCarry.org
Phone: 850-270-7486
Fax: 678-359-9816