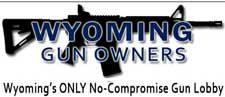 Cheyenne, WY -(Ammoland.com)- On Tuesday, Feb. 23rd, HB-86 passed the Wyoming House of Representatives 50-10, now it's sitting on the doorstep of the state Senate.
HB-86 Repeal Gun Free Zones is sponsored by House Representative(s) Kendell Kroeker, Mark Baker and Allen Jaggi, and in the Senate by Senator(s) Cale Case and Curt Meier. See version passed in the House.
If passed in the Senate and signed into law, this legislation would allow law-abiding citizens to defend themselves against "would be" attackers in many government buildings around Wyoming.
The call to repeal gun free zones has now reached epidemic proportions as shootings like the one in San Bernandino California — expose the epic failure of gun-control.
The recent San Bernandino shooters who went on a rampage in a "gun free zone" consisted of a vetted government employee and his spouse who was vetted by the Department of Homeland Security.
Even those once in opposition are changing sides. Casper City Council member and former Mayor, Kenyne Schlager, stated "I am now in support of repealing gun free zones."
And we have this reality on our side:
Utah has allowed lawful carry in government buildings state wide, because they know that posting signs designating gun free zones sends the wrong message to blood thirsty killers —"that innocent victims are inside" and "we are here ready to be picked off like sitting ducks."
The good news…
Yesterday I watched as the House majority rejected the gun-control crowd's push for "local control" in an amendment brought by House Representative Charles Pelky (Democrat-Albany) — that would allow local governments to continue prohibiting lawful carry.
The bad news…
We can expect the Senate to play similar games with your God-given rights — sadly, many Senate Republicans could follow the lead of House Democrat Representative Pelky.
In the past they have refused to send pro-gun legislation to the Senate floor, and as we witnessed just last year, a substitute bill completely changing the intention of the original bill was pushed by Senate leadership and passed by the Republican Senate majority.
Of course we have last year's vote exposing the Senate majority and going forward — a failure to advance the right to keep and bears arms by the same Republican majority will bring us great opportunities in the coming Republican Primaries.
It's really simple…Either the Wyoming Senate continues to vote and act like the anti-gun Democrats in California -or- they pass HB-86 w/o amendments.
And if they refuse to bring HB-86 to the Senate floor for a full vote during this session, it will only confirm what we know about the Republican majority in the Senate.
With a 50-10 vote in the House supporting this first step to repeal gun free zones — we now have their backs up against the wall.
***CALL TO ACTION:
Contact Senate Floor Majority Leader Senator Eli Bebout immediately, and tell him you want to see HB-86 on the floor for a full vote. —-> [email protected]
***SECOND CALL TO ACTION: We need to be ready to take advantage of the opportunities (handed to us on a silver platter) by an anti-gun Republican majority in the Senate—->we now bear the responsibility of building a war chest capable of unrelenting messaging with high impact radio ads, internet campaigns and mail delivered by the postal service.
Please contribute to WyGO's war chest with a donation of $100, $75 or $50 today, or you can help by becoming a WyGO-Warrior by making a monthly commitment of what ever you can afford.
With your support, 2016 can be the year the anti-gun lawmakers feel the heat like never before.
If you are as disappointed by the Senate Republicans as I am, don't be set back. Instead, help me be prepared to turn the tides.
If you are still on the fence, please consider the following…
Champion Legislators who have ensured that pro-gun bills have been introduced every year since WyGO's founding, should have assurances from us that we aren't just a bunch of talkers.
In addition to being barred from select committees or positions of leadership, legislators who have consistently championed WyGO-backed legislation are attacked by establishment challengers during elections.
In addition to contacting Senator Bebout, please help me ensure that we have the horsepower to push back in 2016 by contributing as generously as you can today.
For Freedom,

Anthony Bouchard
Executive Director
Wyoming Gun Owners
About Wyoming Gun Owners:
Wyoming Gun Owners is a not-for-profit issue advocacy organization that is on a deliberate mission to protect and defend the Second Amendment. Contributions to WyGO are unlimited and are used to expose politicians who treat your rights with contempt. Contributions to WyGO are not deductible as charitable contributions for tax purposes.
For more information, please visit www.WyomingGunOwners.org.