by Chad D. Baus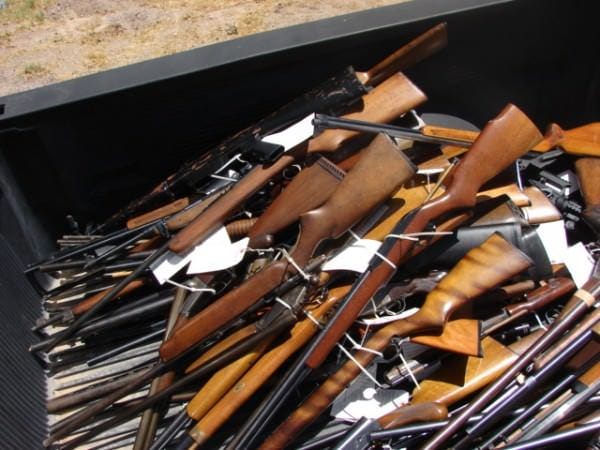 Ohio – -(Ammoland.com)- A recent Cincinnati News article highlighted a gun "buyback" program being run by Deer Park City Councilperson Charles Tassell – a program that focuses on the problem of guns in the "wrong hands" rather than the firearm itself.
From the article:
Typically, the guns are destroyed in buybacks conducted by cities and police departments.
Deer Park City Councilperson Charles Tassell, who is pro-gun and holds a concealed-carry permit, didn't think that was the best way to run "Street Rescue," his gun buyback program.
Instead, he turns in the collected guns to federally licensed firearms dealers to be sold to the right hands.
"It's not my determination of the 'right hands,'" Tassell said. "It's the federal government's decision."
According to the article, most of the 41 guns he collected off of the streets in Over-the-Rhine, Walnut Hills and East Westwood were handguns and pistols. He's taken many of those to shops around Cincinnati, including TargetWorld and Point Blank Range & Gun Shop.
The article goes on to say that when the guns come in, Tassell runs the serial numbers through the Deer Park Police Department. If anything is stolen, it goes back to the proper owner. If the serial number is rubbed off, then it is destroyed, per the Bureau of Alcohol, Tobacco, Firearms and Explosives.
"We made sure none of them were stolen, sought by law enforcement or wanted in connection with any crimes," said Deer Park Police Chief Michael Schlie, who confirmed none of the guns from Street Rescue's buybacks were stolen.
Tassell takes the guns that are safe and can be sold again to licensed federal firearms dealers, who register them in their inventory.
"Allowing the guns to go back into the secondary markets is a much better solution than simply destroying the firearms," said Joe Eaton, treasurer of the Buckeye Firearms Association. "It protects the historical and collectible guns and makes families safer by making less expensive firearms available to them."
Eaton said many dealers would be interested because it would add to their regular business.
According to the article, when the guns are sold legally from that dealership to a customer, who has passed a background check run by the ATF, Street Rescue recoups the funds to host more "buybacks."
"This is a way to sustain the program," he told the Cincinnati News. "Functioning guns are a valuable asset that can be resold to bring funds back into our program to again get guns off the street."
"You have to get them out of the hands of bad guys first," Tassell is quoted as saying, "and that's where we come in."
Chad D. Baus is the Buckeye Firearms Association Secretary, BFA PAC Vice Chairman, and an NRA-certified firearms instructor. He is the editor of BuckeyeFirearms.org, which received the Outdoor Writers of Ohio 2013 Supporting Member Award for Best Website.
About:
Buckeye Firearms Association is a grassroots political action committee dedicated to defending and advancing the right of Ohio citizens to own and use firearms for all legal activities. Visit: www.buckeyefirearms.org