My top picks of the best gun cases by Jason Ried.

New York -(Ammoland.com)- Spitting snow flakes blew sideways pelting the fleece balaclava which served as a cocoon warming my head.
Two dozen Full body decoys and disjointed handful of shells and silhouettes down wind of our layout blinds in the snow blanketed corn field. Under the stream of our headlamps, we passed coffee, donuts, cracked jokes waiting for legal shooting light.
When the time came, I slid my shotgun from the protective shield of my gun case, sliding three shells into the gun, and looked to the heavens.
Longgun cases come in a variety of sizes, serve the same purpose, but have different applications. With the advancement of manufacturing; ergonomics, protection and features are at the forefront of protecting our trusted guns.
Here are five long gun cases that I find outstanding. If you own just three of any of these cases then you will be covered for every type of firearms arms transportation you can imagine.
Five Best Gun Cases
Pelican IM3100 Gun case
Blackhawks Padded Weapons Case
SKB – Mil-Spec Custom 3 Gun Case
Browning Santa Fe Flex Gun Case
Banded Torx EVA Gun Bag
Pelican cases have entered the market grabbing shooter's attention over the past several years. Quickly becoming trusted for their coolers, Pelican also produces solid firearms protection products. The iM3100 Gun Case is super versatile, since it is lined with solid foam and is not precut like some cases. ( Pelican even sells extra foam so you can cut and create new padding for a variety of guns, also be sure and get three pad locks keyed the same, for airline travel)
Protecting rifles or shotguns 35 inches or less, the iM3100 is made with a hard plastic outer shell which sucks up the hits during travel. Complete with rubber handles and six press-and-pull latches, the iM3100 Gun Case from Pelican offers simple protection at an affordable price.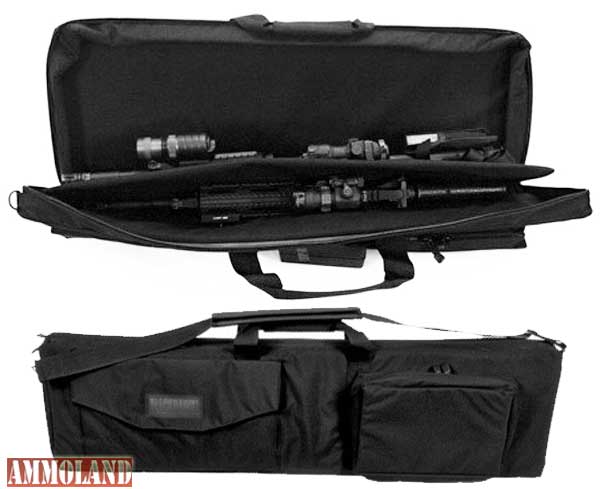 Ever need to transport two guns at once? We all have had to at one time or another and carrying two cases is nothing short of a pain (PITA). Blackhawks's Padded Weapons Case, allows you to carry two guns at once thanks to the internal divider but the value of being able to carry the case with ease like a single gun sheath.
Constructed with closed cell foam and 1000 denier nylon.
Internal divider allows you to carry more than one weapon side by side.
Exterior padded zippered pouch.
Additional pouch secured by hook & loop for miscellaneous items.
Full opening zipper for shooting mat capability.
This case is made with lightweight closed cell of which offers the protection your guns need without adding extra weight.
Exterior pouches allow easy transport of the variety of shooting items we take to the range.
SKB, is a long trusted name in gun cases, some hunters and shooters say they set the standard for firearms cases long ago. The SKB MIL-SPEC CUSTOM 3 GUN CASE comes with pre cut gun and accessories slots for shotguns, rifles and handguns. A three-in-one value for just over $300. Some people like this aspect, some do not, I say more is better.
Interior Dimensions:
50″ Long
15″ Wide
6″ Deep
Exterior Dimensions:
52″ Long
17″ Wide
8″ Deep
Weight: 26.2 LBS
At 52 inches long with SKB's exterior toughness, this case weighs in at 26.2 lbs. This is the type of case you would use for extensive air travel, over oceans, or for that bomb proof case for an extended off road trip.
Want to feel a little more like a cowboy? Browning is known for their quality firearms and equipment in general. Their Flexible Gun Case with a flair from the south west is no exception. The simple shotgun case is padded with cotton, but rests your gun in soft flannel while protecting it in with a waxed canvas exterior . The Santa Fe Flex Gun Case comes with pouches for extra shells and tools and is carried by an adjustable leather strap.
This case is beautiful and protects your shotgun to and from the field.
For hardcore waterfowls and wing shooters alike, mud and grime are the norm during the season. The Banded Torx EVA Gun Bag caught my eye for the durability and protection inside and out. Not only does the Torx float and not absorb water, but uses thick fabric to protect your gun in the swamps. One of the biggest problems with field cases I have seen, are the plastic clips. This bag uses steel clips to ensure longevity. at 54 inches long with handle and padded shoulder straps.
From the Manufacture: "Heavy-duty 900D exterior fabric Durable steel hardware Double reinforced wear areas Easy in/out with buckle closure Features non-absorbing closed cell flotation foam Easy hang clip Carrying handle and padded shoulder strap Fits guns up to 54" long

Walking through the hardware store one morning after the hunt, I saw aisles of metal buckles, rivets and grommets. They were fantastic and I knew they needed to be used somewhere. A few days later, I found myself waist deep in old military bags at a local army surplus store and I realized there was an idea here. Later that day on the tailgate of the pick-up with a couple buddies, we sketched up the first gun case. We blended a traditional military bag concept with a new-aged, technically enhanced design. Hardware such as metal buckles, rivets and grommets were applied for additional durability and a bullet-proof look. After creating our first gun case we knew we were onto something special and additional designs followed…and BANDED Gun Cases were born."
At under $50.00 the Banded Torx EVA Gun Bag protects, but will not break the bank.
Gun cases are worth the money to protect your firearms investments. With the numerous options available, there is case to fit each need, desire and weapon for your adventure.
Take it from me it is money well spent, to prevent suffering costly repairs or a blown hunt because you thought you could skate by with an old stocking sock for your gun case.
Staff Addition:
3V Gear recently sent a test and evaluate soft double gun case for our staff.  For a soft case range bag I really like the protection it offers for a multi gun case.  Much like the Blackhawk bag it has a strong separator and Velcro straps to retain the rifles.  In addition the 3vGear Ranger 42 bag has soft triangular pockets in the corners to restrain the ends of the rifle while strapping and a backpack shoulder carry set up that is easy to add or remove. These are very nice features not seen in the Blackhawk.  Priced at $74.99 this is a great value for everyday shooters.
 About Jason Reid:
Jason Reid is a writer and business professional from upstate New York. After deciding to pursue his dream of becoming an outdoor writer, Jason started a blog from his dorm room at Houghton College, growing it and working hard to earn opportunities. While bowhunting big game is his ultimate passion, Jason welcomes all outdoor challenges which force him to push his limits. More of Jason's work can be viewed on his website Pushingthewildlimits.com