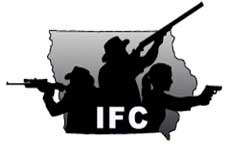 Iowa –  -(Ammoland.com)- Friday night the Iowa state legislature adjourned "sine die" for 2016.
This means lawmakers have closed out this year's legislative session and have no plans to meet again until 2017.
The Senate chose not to allow a vote on the Privacy Protection Act, and killed that bill like they have so many other pro-gun owner bills in the last 6 years. As we've pointed out before, this bill, HF2314, would benefit more than a quarter million Iowans. It is also endorsed by Iowa law enforcement, and it passed the House by an astounding 97 to 1 vote.
Yet despite all this, the Democrats in control of the Senate said the bill "needed fixing" and refused to allow a vote on this bill. This course of action is something we Iowans are unfortunately way too familiar with.
Despite this, the Iowa Firearms Coalition and our allies were able to secure two noteworthy victories this year. We legalized suppressors and legalized ATV carry. This is more progress on the pro-Second Amendment front than has been made in the last 6 years. We're proud to be able to reclaim a bit of liberty and we're proud to have led the charge for these pro-freedom bills. But our work is FAR from over.
If you're satisfied with the way Senate Democrats have deliberately mishandled pro-Second Amendment bills, continue doing nothing. But if you're like us, frustrated with the fact that we have to fight tooth and nail for every for pro-gun owner bill, then we need you to stay active.
We're facing a major election season, and we're poised to flip the Senate and shake up the Iowa legislature. Now that the session is over, we're not slowing down. We'll soon be rolling out specific plans, easy things we all can do, that'll help us flip the Senate and greatly improve the odds for pro-gun owner legislation in the Iowa legislature. But know this, we'll only be successful if we can build a ground swell of active supporters. That means doing more than just casting a ballot in early November.
If we fail you can expect to see the same anti-gunners running the Iowa Senate in 2017 and 2018. If you want to see change, you need to do your part to bring it about. We're working hard on our end, but our success is directly tied to your involvement. Our active followers are a tremendous resource during the legislative session, now we hope to continue to harness your energy for the upcoming campaign season.
We sincerely thank you for supporting the Iowa Firearms Coalition. We wouldn't be able to do what we do without your support. There's a reason why IFC is the most respected Second Amendment organization in Iowa, and that reason is the thousands of you who keep close tabs on Iowa's elected officials. Now we just need you to keep up the momentum and help us make some much needed changes in the legislature.
Thank you so much. More updates to come!
---
Iowa Firearms Coalition is an entirely volunteer, grassroots, Second Amendment advocacy group. Responsible for bringing uniformity to Iowa's Permit to Carry process, IFC's members work to protect and enhance Second Amendment rights in Iowa. An affiliate of the National Rifle Association, the IFC actively seeks to foster and promote the shooting sports. Sign up for our email list for the latest on Second Amendment issues in Iowa. You can support our work by becoming a member, or making a donation.