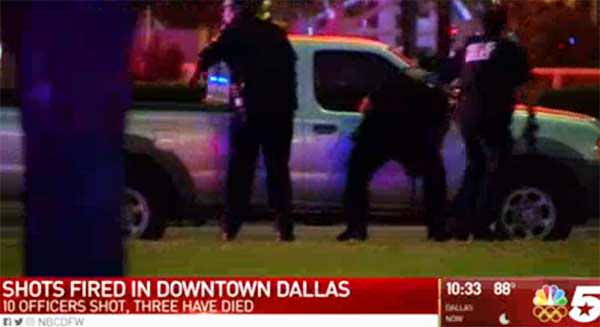 USA –  -(Ammoland.com)- As I write this it is still unclear how many police have been shot and killed in downtown Dallas.
Multiple attackers "ambushed" police. shooters are still on the loose. All this is on the heals of two black men shot and killed by cops, including one good-guy card-carrying Concealed Weapons Holder in Minnesota.
Already much of the MSM reporting is that the shooters / snipers were using a "high capacity magazines", also known as a standard magazine to me and you, and rifles (type unknown).
We all know where this is going to lead, Obama is already stirring up fear and hate, rather than calling for calm. The Democrats and the Media will blame American gun owners. "BAN GUNS, BAN HIGH CAP MAGS, BAN BODY ARMOR". will be the sit in chant of the day.  All this at a time when honest law abiding gun owners need more weapons, not less, to protect our family, friends and loved ones.  If you are smart you will buy whatever you can afford now, do not wait, do not get caught unprepared. Get what they will ban first, have it on hand now so you can train and retrain your family.
Here is my bookmarked list of great articles AmmoLand News has online to help you prepare.
I have read them all, do your homework, get ready now, while you still have time. Keep a low profile and most of all remain dangerous.