by David Codrea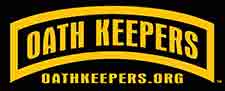 USA-(Ammoland.com)-  The defendants were relying on the Kansas Second Amendment Protection Act, a duly enacted law citing Second, Ninth and Tenth Amendment protections against federal infringements, declaring:
"Two Kansans face up to a decade in prison for making and selling silencers without registering them with the federal government or paying the special taxes," Wichita CBS affiliate
KWCH12 reported Tuesday
. "They say it's allowed under state law. But a federal jury says it's illegal."
A personal firearm, a firearm accessory or ammunition that is owned or manufactured commercially or privately in Kansas and that remains within the borders of Kansas is not subject to any federal law, treaty, federal regulation, or federal executive action, including any federal firearm or ammunition registration program, under the authority of congress to regulate interstate commerce. It is declared by the legislature that those items have not traveled in interstate commerce.
That's been the position proponents of state Firearms Freedom Acts have been arguing for years, as efforts to the one first pioneered in Montana, have enjoyed various levels of acceptance and advancement in the states.
The jury, obviously unschooled in its power to judge law as well as fact, sided with the government's position, which is basically "Too bad. Get our permission and pay us tribute or be destroyed."
Bureaucrat Carson W. Carroll, Assistant Director, Enforcement Programs and Services (one of the "swarms of officers" decried in the Declaration), has made that more than clear (except for what actual "services" his department provides).
A legal challenge, filed by the Montana Shooting Sports Association and Second Amendment Foundation, died the death when the Supreme Court passed on taking up MSSA v. Holder.
To read more of David's article, or to comment on it, go HERE.
About Oath Keepers:
Oath Keepers is a non-partisan association of current and formerly serving military, police, and first responders, who pledge to fulfill the oath all military and police take to "defend the Constitution against all enemies, foreign and domestic." That oath, mandated by Article VI of the Constitution itself, is to the Constitution, not to the politicians, and Oath Keepers declare that they will not obey unconstitutional orders, such as orders to disarm the American people, to conduct warrantless searches, or to detain Americans as "enemy combatants" in violation of their ancient right to jury trial. See the Oath Keepers Declaration of Orders We Will Not Obey for details.
For more information, visit: www.OathKeepers.org.