LONG BEACH, Calif. -(Ammoland.com)- Hazard 4 Progressive Tactical Gear recently signed a licensing agreement with Frazetta Jr. Enterprises and will begin producing hats, apparel, wallets, accessories and more, showcasing several pieces of legendary illustrator, Frank Frazetta's artwork.
Frazetta, an inductee into the Will Eisner Comic Book Hall of Fame and the Jack Kirby Hall of Fame, was an American fantasy and science fiction artist, whose work reached millions of people through Hollywood movie posters, comic books, magazines and record album covers.
The first product of the exclusive Hazard 4 line is the Death Dealer rubber patch, which is one of Frazetta's most famous pieces of work.
The Death Dealer is an image of a 1973 fantasy painting that depicts a menacing warrior suited with armor and holding a shield and axe, while sitting on top of a horse.
"The Death Dealer has inspired a generation of books, statues and more. His fictional character is revered by many and is the perfect addition to our offerings," said Filip Postolek, CEO of Hazard 4. "We are honored to work along with the Frazetta family to showcase their designs on our product."
For more than 30 years, the Death Dealer has been a symbol of the United States Army III Corps and is also the mascot of the US Marine Corps helicopter squadron HMMT-164.
In recognition of the Death Dealer, a life-size statue can be found outside of the III Corps headquarters in Fort Hood, Texas.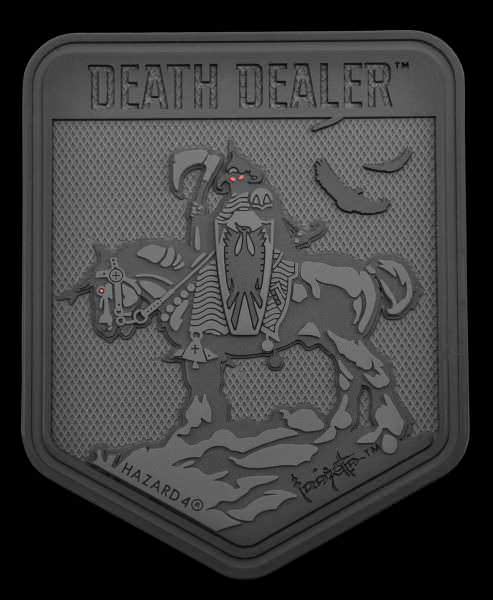 Features of the Hazard 4 Death Dealer rubber patch include:
Hook velcro backing which allows them to be mounted on any loop velcro patch
Made out of recyclable PVC materialEasy to remove and wash
The MSRP for the Death Dealer rubber patch is $9.99, and is available in green, black or coyote colors at Hazard4.com.
To learn more about Hazard 4, visit their website or call 626-344-1454.