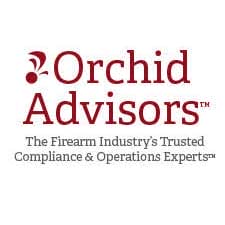 U.S.A. –-(Ammoland.com)- Registration is filling fast for the Firearms Industry Compliance Conference to be held May 8 – 10. Orchid Advisors and NSSF are pleased to announce three multi-hour workshops that include U.S. Senator Luther Strange.
Executive Session for CEO, CFO and General Counsel
(Track A) "The Coming Storm and the Firearms Accountability Counsel Taskforce" is a special session designed specifically for the firearms industry's CEO, CFO and General Counsel and is being delivered by U.S. Senator Luther Strange, NSSF's Lawrence Keane, Daniel Wilson, Jon Sprole, and John Neiman from Maynard Cooper and Jon Rydberg, CEO, Orchid Advisors. This track will provide insight into the ever-evolving, complex political landscape affecting our industry. Attendees will learn from a panel on the front lines dealing with these issues.
ATF-Led NFA Workshop
(Track B) Alphonso Hughes, Chief of the NFA Division, Travis Glover of Orchid Advisors / ASA Board Member and Phil Milks of Orchid Advisors will host this 2.5 hour deep five on NFA compliance. Attendees will enjoy an "A to Z" discussion about all things related to the National Firearms Act (NFA) including regulations, forms and much more. This is a unique opportunity to hear directly from Mr. Hughes in a limited attendance setting.
Best Practices in Retail Security
(Track C) Take a deep dive into retail security best practices with ATF Chief Tom Chittum, Alexis Tunell of Orchid Advisors and Bill Napier of NSSF. Attendees will listen to the ATF's perspective on prior year security incidents and understand how important is to public safety, inventory control, compliance and financial matters. This interactive track is a "must attend" for anyone looking to learn more about how to protect their retail operation.
New Speakers!
In addition to the May 8 Workshops, Orchid and NSSF are also pleased to announce the addition of three more speakers. Dan Rice from Walmart, Cole Roberts from Hudson and Kevin Miller from Miller & Chevalier will be joining the sessions held on May 9 and 10. View the most current agenda (2017 Full Conference Agenda).
Limited sponsorship levels are available. Please contact Chris Tatulli, NSSF Director, Exhibit and Sponsorship Sales, at [email protected] or (203) 426-1320 ext. 214 for more information.
About Orchid Advisors
Orchid Advisors helps firearms manufacturers, distributors and retailers achieve compliance and operational excellence through education, technology, software and consulting solutions that reduce risk, cut costs, and provide expert guidance to make our clients' businesses more successful and efficient. Orchid Advisors is The Trusted Firearms Industry Compliance & Operations Experts. The firm is endorsed by their partners at NSSF, the National Shooting Sports Association and NASGW, the National Association of Sporting Goods Wholesalers. For more information, please visit http://www.orchidadvisors.com.