by Josh Wayner
Josh takes time out from rifles to review the Smith & Wesson M&P M2.0 Pistol, this one in Flat Dark Earth.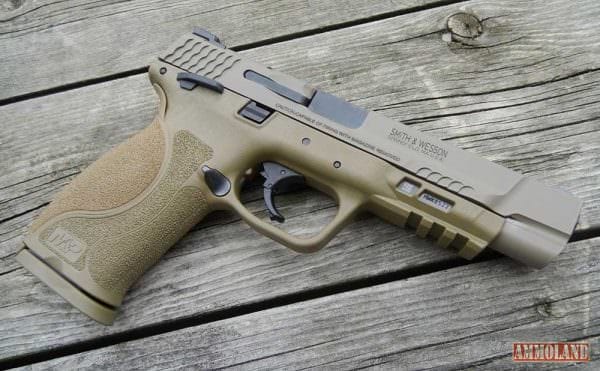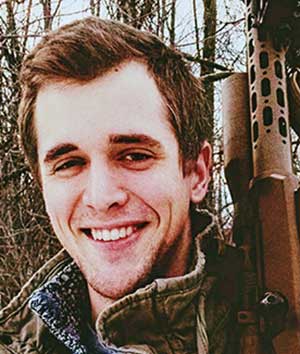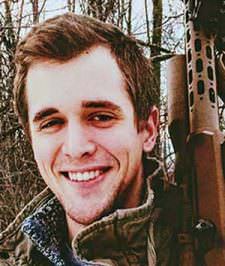 U.S.A. –-(Ammoland.com)- Smith & Wesson has been on a roll in recent years when it comes to modernizing and advancing the designs of their polymer framed pistols.
The Smith & Wesson M&P M2.0 Pistol brings a great deal to the table for a competitive price. The M&P M 2.0 pistol series is, obviously, the successor of the very popular original M&P lineup.
These pistols are not budget focused excuses for progress, but instead, represent significant forward design momentum in the overall layout and modularity of S&W's weapons.
Unlike the design departments of other major pistol manufacturers, Smith & Wesson's designers put forth significant effort when looking for new features to include in the 2.0 series pistols. It seems like a no-brainer, but most gun companies take years to catch on with what shooters want if they even do at all. Not so with S&W.
One of the most sought-after features on modern handguns is custom grip stippling or other texturing. If one was to have this process done on a pistol like those available from Glock, it could potentially cost more than $100 and would be a custom proposition. The M&P 2.0 comes standard with a very aggressive grip texture that is nearly equivalent to a 100 grit sandpaper. It allows for a very solid purchase, which in turn allows the shooter to maintain their sight picture better under recoil while preventing slippage in the hand.
Speaking of how it fits in the hand, the 2.0 comes with four unique palm swell inserts to allow for a customized and ergonomic fit to the individual shooter. Changing out these inserts is as simple as rotating and pulling a pin in the butt of the pistol, replacing the insert with the size of your choice, and reinstalling the pin. This is not a flimsy bolt-on afterthought like other designs out there. It is solid and brings a level of customization to the M&P that others just can't match.
Among the other features of the pistol are an ambidextrous slide release, forward accessory rail, and excellent steel-bodied magazines, two of which come with a gun. I experienced no firing issues loading either magazine to full capacity along with one in the chamber.
Of particular note is the number of safety features on the gun. The pistol has a standard segmented M&P trigger safety and a manual safety towards the rear of the slide. I have heard from many people that this is an undesirable and unnecessary feature on a modern handgun. This is one of those things that you will have to decide on for yourself. Personally, I find the addition of this manual safety to be a welcome break from what has become the norm among polymer framed handguns. I found the safety, which is ambidextrous, to be easy to use and not at all in the way during firing or carry.
Another safety feature of this pistol is a loaded chamber indicator on the top of the slide. Again, those who use other pistols or even other generations of the M&P series may find this to be an extraneous addition to the gun. I found that it in no way hindered the performance of the weapon and, if anything, was just another feature of this great pistol.
The slide and barrel assembly is nothing short of a work of art and is loaded with features that comparable handguns lack. The recoil spring and guide rod are both made of steel. Contained within the slide is a 5 inch 1:10 twist barrel. The slide itself is beautifully machined and has contours that reduce weight while increasing the visual appeal of the gun. In testing the pistol over several hundred rounds and holstering it frequently, I found that the Flat Dark Earth finish on the slide showed no signs of wear and was very durable.
In addition to looking good, the Smith & Wesson M&P M2.0 Pistol shoots exceptionally well for an off-the-shelf 9mm striker-fired pistol. I tested 11 off-the-shelf loads in the 2.0 that are available at most major retailers at the time of this writing. I experienced no reliability issues whatsoever with any load tested. Thanks to the crisp trigger, long sight radius, and excellent balance, the pistol averaged 4 inches for 10 shots at 25 yards with most loads. The most accurate load in the gun was Hornady 135 grain Critical Duty. It averaged an inch and a half for 10 shots at 25 yards with the largest 10-shot group coming in at just a fraction over 3 inches and the smallest at just under an inch. I was very impressed by this.
American Eagle 115gr FMJ—– 1220fps
American Eagle 124gr TMJ—– 1098fps
Federal 147gr HST +P——— 1125fps
Hornady AG 115gr XTP——1231fps
Hornady AG 124gr +P——–1235fps
Hornady Critical Defense FTX—-1205fps
Hornady Custom 147gr XTP—– 1019fps
Speer Lawman 115gr TMJ——- 1189fps
Speer Lawman 124gr TMJ—— 1115fps
Speer Lawman 147gr TMJ—— 980fps
Velocities are an average of ten shots five feet from an Oehler 35P chronograph at 60 degrees Fahrenheit.
Some potential cons of the Smith & Wesson M&P M2.0 Pistol?
At this point, I'm not actually entirely sure. Some end-users of this model may find it to be a bit too feature-rich for their taste, but I really didn't think any of the things not found on comparable pistols from other manufacturers are unwelcome when actually using or carrying it. As far as a modern polymer frame pistol goes, this gun shoots well, is very reliable, and has an attractive appearance to boot.
I carried the gun on and off as well as took it on some hikes and discovered that it was a somewhat neutral presence. It is a large handgun, but at roughly 30 ounces loaded, it is still fairly light and can carry comfortably in a belt holster or chest mounted Hill People Gear heavy Recon kit bag for miles. It might not be my first choice to take to a pistol match, trail adventure, or daily carry, but you could sure do a lot worse at all three using a different gun.
The Smith & Wesson M&P 9 2.0 in Flat Dark Earth is an exceptional value loaded with many custom features that would cost hundreds more on a comparable handgun. If you are looking for a durable, accurate, and dependable full-size 9mm pistol with a modern flair, you would hard-pressed to find a better pistol than this.
It's ready to rock from the minute it springs out of the box.
---
Smith & Wesson M&P M2.0 Pistol Aftermarket Upgrades:
---
About Josh Wayner:
Josh Wayner has been writing in the gun industry for five years. He is an active competition shooter with 14 medals from Camp Perry. In addition to firearms-related work, Josh enjoys working with animals and researching conservation projects in his home state of Michigan.