AmmoLand reporter, John Crump, interviews firearms photographer, Jeromy Stites, know in certain circles by the handle: Ruiner AR15.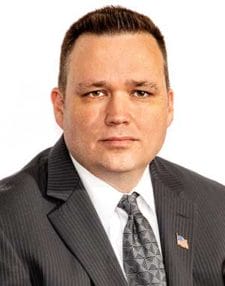 U.S.A. –-(Ammoland.com)- I have always considered firearms more than a tool. To me, they are works of art.
From the sleek lines of the Smith & Wesson Model 3 to the Walther PPK, the style and design of firearms has always interested me. Like many of the readers of this website I love looking at pictures of firearms.
My favorite firearms photographer is Jeromy Stites who is also known as Ruiner AR15. Jeromy captures the essence of firearms. His photographs have been featured in magazines and for manufacturer's advertisements.
I always wanted to learn more about his photography and had a chance to sit down and speak to him about the mixing of firearms and photography as an art form.
Jeromy Stites aka Ruiner AR15
John: You are known for your firearms photography. Which did you pick up first, firearm
or photography?
Jeromy: Definitely firearms, I come from a family of outdoors enthusiasts and sportsmen and was introduced to firearms at an early age. I used to watch my father work on his black powder rifle builds out in the garage, where he crafted the wood and brass components himself and combined them with retail trigger assemblies and barrels to make a fully functional firearm. It was there that my appreciation of firearms not only as tools but as works of art and beauty was forged.
John: How long have you been combining the two?
Jeromy: Not very long really, maybe eight or nine years. I had a friend and coworker who was into photography who would travel Arizona and bring back some of the most beautiful landscape photos that really struck me. I realized that some of these very same landscapes were often the backdrop when I was out receiving firearms training or just shooting with friends, so it dawned on me to start capturing my two passions in photos.
John: What type of equipment do you use?
Jeromy: For the majority of my studio stills, I use a Lumix G7 4K camera. For video and field work, I use a whole host of cameras, but mainly a Sony Prosumer 4K video camera with a Zeiss lens. Nearly everything I do is in 4K and downconverted to 1080 HD later in post production.
The 4K resolution hasn't been adopted very quickly, but I don't target 4K as the primary output, rather I use it for its other distinct advantages that are particularly suited to my type of photography, such as deeper colors and flatter blacks, and being able to break a 4K image into smaller chunks but still retain HD quality for those times that it's too dangerous to be closer to the action.
For post production, I use an iPad Pro and Apple Pencil and a whole host of apps for color grading, corrections, object removal and special effects.
John: What is the most important part of capturing the perfect action shot?
Jeromy: Taking risks. Not physical risks that would put someone in danger, but risking equipment by placing it in dangerous positions to capture images I couldn't capture otherwise. Some of these cameras cost thousands of dollars, so of course there is some hesitation placing them within inches of a bullet's flight path or the fiery muzzle flash of a mounted machine gun.
In those situations I remind myself that so few people do what I do that there is a good possibility some of these moments of exhilaration may never be experienced firsthand by others and my photos may be the closest they ever come, which makes the risk worthwhile.
Work with your photo subjects to mitigate the likelihood of equipment damage, sharing a clear plan of where your equipment will be in relation to the shooter for the shots you have in mind.
John: What was your favorite experience in the field of firearms photography?
Jeromy: It's hard to pinpoint just one, but if I were pressed I would say my participation in the annual Shockwave in the Desert events, the second event most notably. I co-own the Shockwave in the Desert event with Erik and Bryan of We Plead the 2nd, and it has allowed us to share the excitement and exhilaration of shooting some of the most unique and recognizable firearms in American culture with folks who may otherwise may have never had that experience.
Of course, I rarely press a trigger during these events because I'm busy capturing the joy and excitement of our guests in photos which I then get to share with the world, but these events are by far the most rewarding and therefore my favorite experiences.
John: What advice would you give to someone just starting out in the firearms photography
Field?
Jeromy: Be unique. Firearm photography is a lot like people taking those photos of their lunches, everyone seems to be photographing them, but so few really seem to stand out. Break away from the standard "gun on a cement floor" or "gun on white background" photos and develop your own unique style. I dabble in all sorts of styles and I don't let the number of "likes" my photos get drive me, if a style pleases you artistically then stick with it, it's guaranteed that you are not alone in your appreciation of that style, and your audience will eventually find you.
They won't find you if your photo blends in with the thousands of other similar photos. You have to remember that your photo is likely just one in a long stream of photos being flicked and scrolled by, it's your job to offer something so unique as to make them stop scrolling and really take in and appreciate your photo.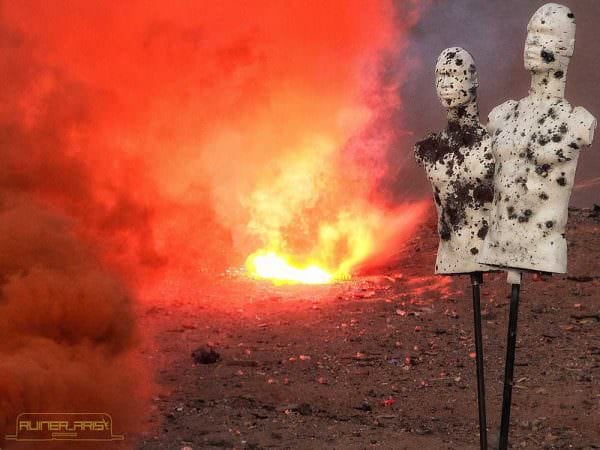 John: Where have your pictures been featured?
Jeromy: I have had a few of my photos featured in magazines and brochures, but the vast majority are in the digital realm where they serve as product photos for firearm industry manufacturers, or as featured photos or banners on landing pages of popular firearm related websites, and as illustrative photos for component reviews in popular firearm blogs.
Most recently my work can be seen in Shooting Industry Magazine in their up-and-coming section where some of my photography work for Atibal Sights can be seen. Being featured in print has been a longtime goal for me, and now that I've achieved that I'm resetting my sights higher and hope to have my work eventually appear in Recoil Magazine or another big publication, and ultimately would love to land a cover photo.
John: Where can people to go see more of your pictures?
Jeromy: I have a good size presence on Instagram as @ruiner_ar15, a new but quickly growing blog on Tumblr as @FirearmPhotography, and I have a page on the professional photography website 500px, again as Ruiner_AR15.
You can also see lots of my work on some of my industry partner and close friends' websites and social media pages like We Plead the 2nd, Arizona Armory, Atibal Sights, Gibbz Arms, Recover Tactical and a bunch more. Odds are if you follow the firearm industry you've probably already seen some of my work and didn't even know it, but I'm working to be less transparent in that regard.
John: Any future project for use to know about?
Jeromy: Towards the end of this summer I will be working with novelist Christoff Orr, author of the Lost Nation series of fictional books that feature the modern Patriot movement as their main protagonists. Our goal is to do an "indie" project that brings to life original short stories from Christoff and stylized photography by me, and will act as spin-off stories that take place in the time gaps that span between the novels.
We think of the project in terms of how some of the Star Wars novels fill in the gaps between the movies, but in reverse. You can troll my social media feeds to see some previews of the style we will be utilizing. Also, although I usually get invited to Shot Show almost every year, life has almost always found a way to interfere, but this year looks to be different, so there is a good possibility of my photo work or even some of my custom firearms I've built show up on the Shot Show floor.
John: Where can someone go to hire you?
Jeromy: I can be found online on Instagram, Tumblr and 500px under the accounts I've previously mentioned, and a good portion of my work can be licensed directly from the 500px marketplace.
To contact me directly, they can send an email to my [email protected] email address or send a direct message on the appropriate social media site. I do a lot of work with veterans and veteran owned businesses at deep discounts so please reach out to me if you are a vet owned firearm-centric business looking for marketing photos, odds are I can help you with even the tightest budgets.
Jeromy's work can be found at the following sites
www.instagram.com/ruiner_ar15/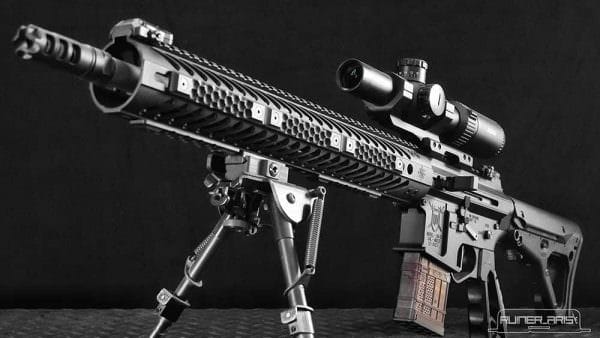 About John Crump
John is a NRA instructor and a constitutional activist. He is the former CEO of Veritas Firearms, LLC and is the co-host of The Patriot News Podcast which can be found at www.blogtalkradio.com/patriotnews. John has written extensively on the patriot movement including 3%'ers, Oath Keepers, and Militias. In addition to the Patriot movement, John has written about firearms, interviewed people of all walks of life, and on the Constitution. John lives in Northern Virginia with his wife and sons and is currently working on a book on the history of the patriot movement and can be followed on Twitter at @crumpyss or at www.crumpy.com.