By David Codrea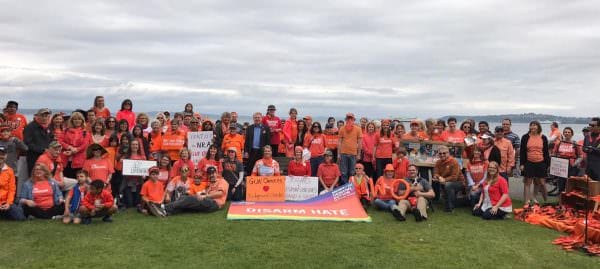 USA – -(Ammoland.com)- "An Oregon child-welfare investigator concluded that Ed Murray sexually abused his foster son in the early 1980s, leading state officials to assert that 'under no circumstances should Mr. Murray be certified' as a foster parent in the future," The Seattle Times reported Sunday.  "The investigation by Oregon Child Protective Services (CPS) of Jeff Simpson's allegations determined them to be valid — meaning the agency believed Murray sexually abused Simpson, the records show."
The May 1984 assessment by CPS caseworker Judy Butler concludes the foster son was abused, and despite Murray's protestation "that prosecutors had decided decades ago not to charge him," the reasons behind that are hardly compelling. Per Deputy District Attorney Mary Burns Tomlinson:
An earlier report notes another teenage boy alleges he was victimized by Murray and provides more details of the abuse.  His paid spokesman dismisses that, points the finger at a predictable target, and in doing so misrepresents the DA's frustrated admission:
 "The two older accusations were promoted by extreme right-wing antigay activists in the midst of the marriage equality campaign," spokesman Jeff Reading said, "and were thoroughly investigated and dismissed by both law enforcement authorities and the media."
Blaming and demonizing political opponents to divert and rechannel attention in such cases is an old trick, making this another example of how for "progressives," every day is Opposite Day.
Murray is a proud member of Michael Bloomberg's coalition of mayors demanding gun owner controls. He joined, among others, the Demanding Moms (and reportedly, the National Rifle Association) in denying the right to keep and bear arms to citizens who have been accused, but not convicted, of criminal actions — exactly as he has been.
And his solution to used Seattle Police guns is to melt them down.
Murray is the latest in a long list of Bloomberg mayors accused over the years of crimes that have resulted in numerous convictions. In his case, it's reminiscent of former Portland Mayor Sam Adams, who exploited a "mentor" relationship with a teenage male for personal sexual gratification.
It's curious how those who can't – or more likely won't – control themselves are so bent on controlling everybody else. It's also curious how the "progressive" community continually rewards victimizers of one of their major constituencies with political support, and reserves special outraged hostility for those who advocate for refusing to be a victim in the first place.
Also see:
About David Codrea:
David Codrea is the winner of multiple journalist awards for investigating / defending the RKBA and a long-time gun owner rights advocate who defiantly challenges the folly of citizen disarmament.
In addition to being a field editor/columnist at GUNS Magazine and associate editor for Oath Keepers, he blogs at "The War on Guns: Notes from the Resistance," and posts on Twitter: @dcodrea and Facebook.