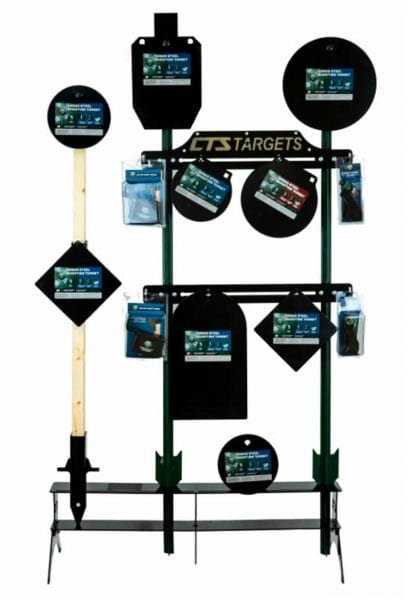 U.S.A. –-(Ammoland.com)- Competition Target Systems (CTS) is growing as a recognized maker of premium steel shooting targets. One of the challenges retailers have in stocking target steel is finding a means of displaying it properly. Piles of dusty steel easily end up on bottom shelves where consumers are likely to overlook them. CTS has developed a solution for the industry and now offers a new Point-of-Purchase display to encourage additional sales for retailers.
As more shooters discover the joy of shooting steel targets, retailers are challenged with finding a way to properly display inventory. This new Point-of-Purchase display helps retailers make more efficient use of floor space by bringing steel vertical with an eye-level display that increases product turn and serves as a visual guide for consumers on the use and features of CTS Targets.
Instead of collecting dust stacked on a shelf, products properly mounted on the POP display clearly show the variety of mounting solutions and target types available. The display also invites consumers to buy more than one with a suggestive personal range appeal. Sales-floor personnel will encounter fewer questions and have easier prompts with the products properly displayed in front of them.
CTS Targets designs and manufactures AR500 steel targets and mounting solutions for both the recreational and professional shooter. Setting CTS apart is a sharp focus on design quality and shooter safety as demonstrated with their innovative target mounting solutions.
About Competition Target Systems:
Combining high-quality AR500 steel with simple, yet innovative designs, CTS Targets has created superior quality products at an exceptional value. Every CTS product is 100% American engineered, sourced, and manufactured.