By David Codrea
USA – -(Ammoland.com)- "Everything you've ever doubted or made to be believe as false, is real. & vice versa," Facebook posts published Sunday by the suspect arrested for a Tennessee church shooting declared. "Become the creator instead of what's created. Whatever you say, goes. You are more than what they told us."
Sudanese immigrant Emanuel K. Samson, 25, allegedly shot and killed one woman outside the church and then went inside, opening fire on the congregation and injuring eight others, including himself. Samson, reportedly wearing a mask, was stopped in his rampage when, per WKRN News 2 Nashville, church usher and concealed carry permit holder Robert Engle, 22, retrieved his firearm from his car and held the attacker until authorities arrived, an act described by police as "extraordinarily brave."
"A motive wasn't immediately known," the report noted. A statement from the U.S. Department of Justice advised:
"The Memphis FBI Field Office's Nashville Resident Agency, the Civil Rights Division, and the US Attorney's Office for the Middle District of Tennessee have opened a civil rights investigation into the shooting at the Burnette Chapel Church of Christ in Antioch, Tennessee. The FBI will collect all available facts and evidence. As this is an ongoing investigation we are not able to comment further at this time."
Pending release of further information from that investigation and further reports where interviews with family and friends can reveal more, that motive is subject to speculation based on what can be learned from other resources uncovering who Samson is.  One such resource is "real-time news and information portal" Heavy.com, which has posted "Emanuel Samson: 5 Fast Facts You Need to Know." Included in that report are further background details and a video interview with a police spokesman and the fact that he is "Trilingual in the following languages: English, Arabic, and Acholi (tribal language)."
Checking social media, Samson had a Twitter account, which now indicates "Sorry, that page doesn't exist!" Samson's Facebook page has not been taken down at this writing, but in anticipation of its possible removal, several screenshots have been taken of posts he has made that may give further insights into what might have influenced his action.
Two major influences appear to have been bodybuilding and religion. A proliferation of self-portraits highlighting his muscular physique speaks of a person very much into his physical appearance and strength. Spiritual references also appear throughout, News accounts indicate he used to worship at the church he attacked although he has not attended in recent years.
Other posts that may shed further light are more political in nature and reveal stories and ideas he believed worth sharing his opinions on, and include subjects like Islam, Black Panthers, Africa, the police, and being against "white extremism."
Noting that some of Samson's opinions and concerns are not without basis, the fact remains his opinions have been colored by "progressive" interpretations. In no case can these excuse, mitigate or even make understandable why he developed murderous rage, snapped and took it out on innocent churchgoers in a country that took him in and provided opportunities he's have never known in his native Sudan.
What's undiscovered at this writing is if Samson's guns were legally owned, or if he had a concealed carry permit. What's known is that a lawful concealed carrier saved the day before the police could  have possibly arrived, something the gun-grab groups scoff at.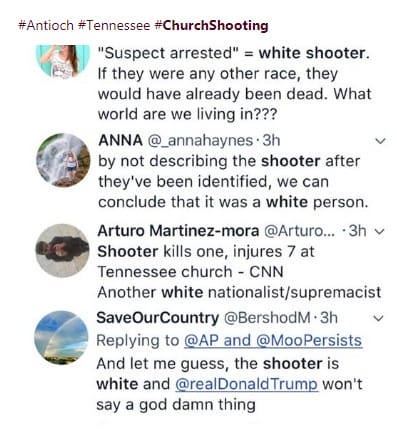 So leave it to the Bloomberg lackeys at Everytown to not even mention that, but to instead self-righteously snivel:
"Churches should be peaceful places where families gather to worship without the threat of gun violence."
If it had been up to them and to the citizen disarmament policies they demand, Samson would have had plenty of opportunity to up the body count.
About David Codrea:
David Codrea is the winner of multiple journalist awards for investigating / defending the RKBA and a long-time gun owner rights advocate who defiantly challenges the folly of citizen disarmament.
In addition to being a field editor/columnist at GUNS Magazine and associate editor for Oath Keepers, he blogs at "The War on Guns: Notes from the Resistance," and posts on Twitter: @dcodrea and Facebook.