USA – -(Ammoland.com)- "King County Councilmembers have unanimously approved more than $600,000 to target accused domestic abusers who refuse to turn over their firearms to police, as required by law," Seattle's NBC affiliate  King 5 reports. "Federal law requires people served with domestic violence protection orders to surrender their firearms to police."
The catalyst for the new-found emphasis is the Texas church massacre killer, whose domestic violence conviction was not entered by the Air Force into the National Criminal Information Center database.
"A King 5 investigation earlier this year showed how hundreds of domestic abusers in our area hold onto their guns, in spite of court orders," anchor Lori Matsukawa assures viewers. "Now, there's a new development, as Chris Ingalls is here to explain in our news room. Chris."
True to form and to agenda, Ingalls repeats the conflation.
Conflation?
A court order does not always a domestic abuser make, despite what King 5 wants its viewers to believe. We're supposed to have due process, requiring a trial, conviction and sentencing before penalties are imposed.  Like the Texas maniac had.
In many cases, we've seen restraining orders and firearm prohibitions based on considerably less than "beyond a reasonable doubt" standard. It's not like motives and incentives don't exist, including revenge, or getting an upper hand in divorce settlements or custody proceedings.  And in many cases, those unfairly caught up in such orders lack the wherewithal to defend the rights they're being deprived of.
"Washington enacted a law in 2014 that mirrors federal law by prohibiting gun possession by anyone subject to a protective order," the Giffords Law Center confirms. "The 2014 law also requires the court issuing the protective order to prohibit the restrained individual from purchasing or possessing firearms or a concealed carry license and require the restrained person to surrender any firearms or concealed carry licenses in his or her possession.  The individual must file a proof of surrender with the court."

"The court may require the party to surrender any firearm or dangerous weapon in his or her immediate possession or control or subject to his or her immediate possession or control to local law enforcement, his or her counsel, or to any person designated by the court," the explanation continues. "These provisions apply to … Restraining orders issued upon filing of a complaint for dissolution of marriage, including ex parte orders [and] Restraining orders issued in cases where parental rights and child support issues are adjudicated, including ex parte orders…"
That's quite different from being a "domestic abuser" and a menace equivalent to the Texas church shooter, is it not?
So how will authorities know how to match restraining orders with noncompliant gun owners?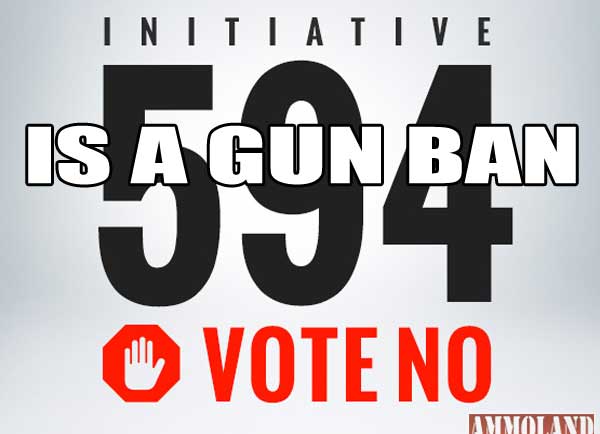 For older private purchases, they might not, unless someone telling on them results in a warrant. But there's always a trail when "universal background checks" are required, as per Washington State's Initiative 594, which also "required that dealers who are facilitating gun transfers — whether they are through the licensed dealer or a private seller — receive confirmation in writing from the chief of police or sheriff that the purchaser in question 'is eligible to possess a pistol […] and that the application to purchase is approved by the chief of police or sheriff.'"
And the reason that's a universal gun-grabber goal is because, as a National Institute of Justice "Summary of Select Firearm Violence Prevention Strategies" noted, "Effectiveness depends on the ability to reduce straw purchasing, requiring gun registration…"
If they know who's got 'em, they know where to look.
And the goal, of course is to go national, including with confiscation.
For once in her life, Nancy Pelosi actually told the truth about guns, admitting to the "slippery slope" that gun prohibitionists used to ridicule as paranoid. The other thing they ridicule as paranoid is warning against gun confiscation. But we see the King County effort writ large in The Boston Globe's latest "Ideas" submission by insulated editorialist David Scharfenberg in his plainly-stated "solution" ambitiously titled "Hand over your weapons."
"Assault weapon" bans won't be sufficient because "they account for just a tiny sliver" of deaths, he admits. And neither will background checks, because those "will do nothing to cut down on the 310 million guns already in circulation."
One way to make inroads could be with mandatory Australia-style "buy backs" (a fake term if ever there was one) like Hillary Clinton and Barack Obama floated trial balloons over. Another is by doing the same thing as King County, via "restraining orders and other measures designed to deprive the most dangerous people of guns — like background checks and tighter restrictions on domestic abusers.
"Ultimately, if gun-control advocates really want to stanch the blood, there's no way around it: They'll have to persuade more people of the need to confiscate millions of those firearms, as radical as that idea may now seem," Scharfenberg proclaims. "The logic of gun control lies, at bottom, in substantially reducing the number of deadly weapons on the street — and confiscation is far and away the most effective approach.
"Is there any conceivable turn of events in our politics that could make confiscation happen?" he asks. "And what would a mass seizure look like?"
A political turn that might give some the inclination that it's safe to try would be the aging of the existing population, reducing the numbers of activist gun owners.  Add to that the takeover of the electorate via a "pathway to citizenship" for foreigners overwhelmingly sympathetic — by all objective measures — to Democrats and to citizen disarmament.  Give it time and the confiscators might work up the confidence to try.
What would it look like?
Kind of like this for a hard and not insubstantial core:
"The only way you're going to get those people's firearms is to murder them first."
You'll forgive us is we don't just wait our turn.
In the mean time, some understand that the old paradigm of lobbying and campaigning for politicians and measures no longer works in safely and irrevocably "progressive" states. That means gun owners are faced with the choice of surrender or defy, which in itself is a time-honored American tradition. And while groups vested in political access may call on the state to enforce existing Intolerable Acts, and advocate that the duty of "good, honest, law-abiding Americans" is to obey them, some of us have adopted a different philosophy, one that reflects the greatest schism in the "gun rights" movement:
And we will not disarm.
About David Codrea:
David Codrea is the winner of multiple journalist awards for investigating / defending the RKBA and a long-time gun owner rights advocate who defiantly challenges the folly of citizen disarmament.
In addition to being a field editor/columnist at GUNS Magazine and associate editor for Oath Keepers, he blogs at "The War on Guns: Notes from the Resistance," and posts on Twitter: @dcodrea and Facebook.