Mike reviews the Smith & Wesson Governor Revolver Specifications and its ability to use multiple ammunition types from .410 to 45ACP.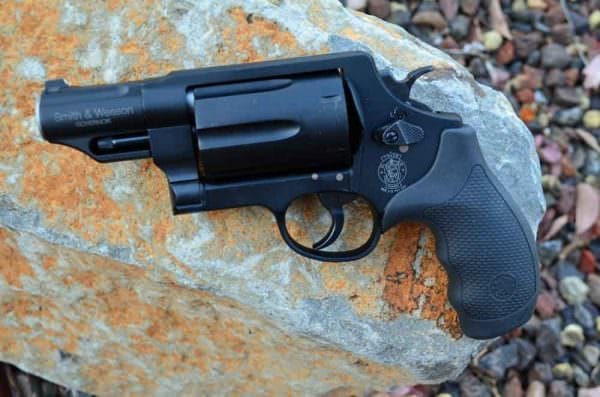 U.S.A. –-(Ammoland.com)- About 25 years ago a new revolver hit the market called the Thunder 5. It featured a rifled barrel and could chamber 45 Colt and 3″ .410 shotgun shells.
The concept was unique; but the finished revolvers had an awkward look, poor balance and almost zero aesthetics. A decade later Taurus took a run at the idea and while they made some improvements over the original Thunder 5 with the Judge; we found that series lacking as well. It took Smith & Wesson about 5 years to actually turn this concept into a real revolver with the Governor.
Yes, the .410 bore revolver is one of those handguns that people either love or hate. As a student of the gun, I can appreciate a good design if it is well-executed and while the Governor revolver is not on my "must have" list of S&W revolvers; they seem to have done a great job with this one.
Built on the Z-Frame, which is actually a stretched N-Frame, the engineers at Smith & Wesson went with a smaller sized K/L-frame grip for this one.
A versatile revolver, the Governor can handle 2.5″ .410 shotgun shells, 45 Colt, 45 Auto Rim, 45 Schofield and even 45 ACP with the supplied moon clips. Unlike the Thunder-5 or Taurus Judge, the Governor holds six rounds instead of five. The barrel is 2.75″ in length.
Let's talk about ammunition choices
Forget about using birdshot, unless you expect to be attacked by a flock of seagulls and crows on a weekend at Bodega Bay (and even then forget it because like its predecessors, the Governor is banned in California as a short barreled shotgun!) Ok, in all seriousness it could be used on venomous snakes or if you are attacked by a Swamp Rabbit but birdshot spreads extremely rapid from a 2.75″ barrel and the level of strike energy and penetration per pellet is extremely low. Your pattern will result in a 12″ blob at 10 feet. Not that I'd want to get shot in the face with it, but there are better options out there than your standard quail and pheasant 410 loads.
Buckshot will not stabilize as well as it will from a full-size shotgun barrel, either but depending on the load you can expect 3 to 6-inch patterns at 20 feet with a larger and harder hitting pellet. However, there is an exception to be found here with the Winchester PDX-1 410 round. This shell contains 3 copper plated discs backed up by a dozen copper plated BBs. At 10 feet from the Governor, these discs more or less stay together to make a decent cloverleaf pattern with the pellets forming about an 8 to 10″ pattern around them.
Slugs are about as useless as birdshot as far as accuracy goes. This goes back to a lack of stabilization from such a short barrel. Save them for your 410 shotgun, do not try them here.
We tried several brands of 45 Colt ammunition from Aguila (200 grain Lead Flat Nose) to Winchester Silvertip (225 grain Silver Tip Hollow Point). The Cowboy loads made a 3-4″ group at 20 feet and the Silvertips were at best 2.5″. Much of this has to do with the jump of the round through a 2.5″ cylinder before entering the barrel and barely 2.75″ of stabilization.
In 45 ACP with Hornady 230 grain XTP, we surprisingly shot an even smaller group at the same distance coming in at less than 2 inches.
Smith & Wesson Governor Revolver Bottom line
If I had to choose one round for defensive close contact use, I would opt for the Winchester PDX-1 loads in the Governor. Should the main reason for carrying one be to dispatch vermin, I might keep it stoked with birdshot. The 45 ACP and 45 Colt groupings did not fill me with any level of confidence for serious defensive use beyond extreme close range.
That does not make me a hater of the 410 handgun. Every serious shooter (who lives outside of California) who owns a Thompson Center Contender or Encore pistol should have a spare 45/410 barrel. In its 7 to 16" barrel length with a removable choke it is a damn good, back-country bug-out pistol option. Again we have the benefit of barrel length and the inherent accuracy of the single shot Contender on our side. I am also partial to the Bond Arms derringers in this caliber, but in that regard, the derringer is a much lighter and more compact offering. If a 410 revolver is something you must have, then we highly recommend the Governor over what else is on the market in a package this size.
The Smith & Wesson Governor Revolver is a well-made, well thought out design with superior materials, build quality and sights to everything else on the market. There is another version that ships with Crimson Trace Laser Grips instead of the Hogues.
Despite the apparent size of the pistol it conceals reasonably well and weighs in at less than 30 ounces. It is not a revolver for everyone, but if it is what you want from a defensive standpoint, a trail gun for nailing varmints at close range or to simply round out your collection of Smith & Wesson revolvers it is a good choice in those regards.
---
Bonus Video Sootch00: S&W Governor 410/ 45 Colt/ 45 ACP Revolver Review
---
Smith & Wesson Governor Revolver Specifications
SKU: 162410
Model: GOVERNOR
Caliber: .410 2 1/2″, 45 ACP, 45 Colt, 45 Schofield
Capacity: 6
Barrel Length: 2.75″
Overall Length: 8.5″
Front Sight: Tritium Night Sight (Dovetailed)
Rear Sight: Fixed
Action: Single/Double Action
Grip: Synthetic
Weight: 29.6 oz
Cylinder Material: Stainless PVD
Barrel Material: Stainless Steel
Frame Material: Scandium Alloy
MSRP: $869
Smith & Wesson Governor Revolver Specifications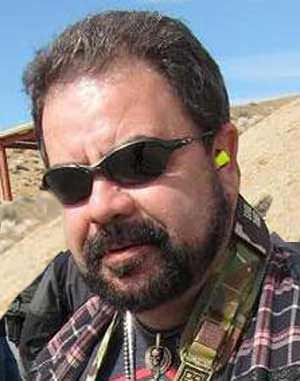 About Mike Searson
Mike Searson's career as a shooter began as a Marine Rifleman at age 17. He has worked in the firearms industry his entire adult life as a Gunsmith, Ballistician, Consultant, Salesman, Author and was first certified to teach firearms safety in 1989.
Mike has written over 2000 articles for a number of magazines, websites and newsletters including Blade, RECOIL, OFF-GRID, Tactical Officer, SWAT, Tactical World, Gun Digest, Examiner.com and the US Concealed Carry Association as well as AmmoLand Shooting Sports News.