USA – -(Ammoland.com)- "Prominent appeals court Judge Alex Kozinski accused of sexual misconduct," The Washington Post propagated Friday. "Heidi Bond … is one of six women — all former clerks or more junior staffers known as externs in the 9th Circuit — who alleged to The Washington Post in recent weeks that Kozinski, now 67 and still serving as a judge on the court, subjected them to a range of inappropriate sexual conduct or comments. She is one of two former clerks who said Kozinski asked them to view porn in his chambers."
If true, that's inexcusable. But without evidence, this is another "he said/she said years later" example of a hysteria sweeping the country. The trend has been increasingly devolving into witch hints and blurring of lines between actual sexual abuse and allegations made to advance personal motives and political agendas. And as much as we're urged to always believe the victim (unless she's one of Bill Clinton's accusers), false accusations do happen, potentially destroying the lives of the accused and also making it harder for real victims to obtain justice.
"I would never intentionally do anything to offend anyone and it is regrettable that a handful have been offended by something I may have said or done," Kozinski responded. "I don't remember ever showing pornographic material to my clerks. If this is all they are able to dredge up after 35 years, I am not too worried."
By "they" he's referring to people opposed to his position on the federal bench for reasons of judicial and political differences and motives. And as long as Kozinski is being scrutinized, fairness demands his accusers be examined as well, if for no other reason than to invalidate countercharges against them.
That's why it's curious The Post failed to mention main accuser Heidi Bond, now writing romance novels under the pen name Courtney Milan, is supporting Democrat Doug Jones for the Senate and talked about writing a modern-day romance novel where "The heroine's mother is an immigration activist." That suggests "progressive" sympathies, and it would be appropriate to determine those for all accusers – not to automatically invalidate their claims, but certainly as information that deserves to at least be considered in the mix.
Likewise, one man's porno is another's federally-funded art exhibit. Americans routinely watch stuff on HBO and Netflix that many would consider obscene. To paraphrase Whoopi Goldberg's "rape-rape" gaffe, are we talking "pornography-pornography" here, or something considerably less hard core?
Not to excuse any of that. One would think, especially in this day and age, every professional would be situationally aware and just plain moral enough not to behave like an intimidating lout. The question here is, do the alleged offenses, if they happened as described, rise to the level of disqualifying Judge Kozinski's continued presence on the bench?
And who thinks that's not what WaPo and other media sharks circling and smelling blood in the water have in mind?
Were he to resign or worse, be booted, one group that would suffer a big loss is gun owners. Because even though the 9th Circuit has been notoriously anti-gun in its rulings, Kozinski has been a refreshing voice of departure from the majority, one who understands founding intent on the Second Amendment both literally and viscerally.
From his dissent in Silveira v. Lockyer, a challenge to California's "assault weapons" ban that the Supreme Court refused to take on:
"My excellent colleagues have forgotten these bitter lessons of history. The prospect of tyranny may not grab the headlines the way vivid stories of gun crime routinely do. But few saw the Third Reich coming until it was too late. The Second Amendment is a doomsday provision, one designed for those exceptionally rare circumstances where all other rights have failed—where the government refuses to stand for reelection and silences those who protest; where courts have lost the courage to oppose, or can find no one to enforce their decrees. However improbable these contingencies may seem today, facing them unprepared is a mistake a free people get to make only once.

"Fortunately, the Framers were wise enough to entrench the right of the people to keep and bear arms within our constitutional structure. The purpose and importance of that right was still fresh in their minds, and they spelled it out clearly so it would not be forgotten. Despite the panel's mighty struggle to erase these words, they remain, and the people themselves can read what they say plainly enough:

"'A well regulated Militia, being necessary to the security of a free State, the right of the people to keep and bear Arms, shall not be infringed.'"
If Judge Kozinski is now a target, it's in the interests of gun owners to make sure that allegations are true, have been faithfully recounted, are unmotivated by agenda, and are egregious enough to warrant further actions. But regardless, just by being named and associated with such behavior, we'll probably never see his name added to President Donald Trump's list of potential Supreme Court candidates. After reading his stirring defense of the Second Amendment, that alone is a major loss.
"Alex Kozinski, a high-profile federal court judge in California, is retiring after multiple women accused him of sexual harassment, prompting a formal inquiry."
---
About David Codrea: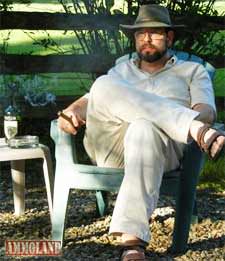 David Codrea is the winner of multiple journalist awards for investigating / defending the RKBA and a long-time gun owner rights advocate who defiantly challenges the folly of citizen disarmament.
In addition to being a field editor/columnist at GUNS Magazine and associate editor for Oath Keepers, he blogs at "The War on Guns: Notes from the Resistance," and posts on Twitter: @dcodrea and Facebook.