U.S.A. –-(Ammoland.com)- The doctrine of human depravity teaches us a lot about expectation. I'm an unbelievable optimist at heart, and I believe in the human project— I'm rooting for us. However, dealing with the difficulties that life throws out can be quite helpful for learning to calibrate expectation.
You soldiers will get it. It should seem weird to get bent out of shape about someone getting your order wrong at Denny's when folks were shooting at you last month. In the same way, getting an undesired gift is no-big-deal when I consider all the people dealing with divorce, death, abuse, etc.
I know, I know what you're thinking— thanks for the upbeat holiday spirit there, Rev!
Seriously though, knowing my audience and some of the realities of humanity has motivated me to release my full buying guide late in the season.
---
---
Here's why:
You may be here because you are an exceptional spouse who purchased an un-inspired gift some time ago, but your husband or wife has just moved from the naughty list to the nice list, and you want to revise your gift buying decision. Maybe you've been overwhelmed with grace and even though they deserve to remain on the naughty list, you've decided to treat them with unmerited favor!
Though time is short— there's still hope.
You may be here because your husband or wife just looked at you and said, I have no idea what to give you; will you please buy yourself something?! Don't think that this is a negative sign for your relationship. The magic is NOT gone. You've just matured— you're just getting into the good stuff—the best is yet to come.
You may have just discovered what your gift is. Whether prematurely or on Christmas morning, it was underwhelming. That's ok. Don't worry; it's better to give than to receive anyway. I would recommend being satisfied with what you have. However, let's be honest. You aren't going to do that, so here's your taking-matters-into-your-own-hands buying guide.
Super Practical Non-Tactical Gifts:
Power Beats 3 Wireless Headphones by Dr. Dre
Saying the Power Beats 3 Wireless Headphones are from Dr. Dre should be enough, but most people like music and almost all people spend too much time on their phones during transit etc. These headphones have good battery life, a form factor that fits an active lifestyle, and great sound.
Sunglasses
I really like the polarized Native Eyewear Trango Interchangeable Polarized Sunglasses in gunmetal.
KeyBar Key Organizer
This simple, well-machined, metal key organizer  (<— click the link to see what I am talking about ) makes every day tasks more efficient. Beyond that, your significant other's every-day-carry pics will look so much cooler with this enhancement.  Don't let your man carry his keys on a key ring.
A Watch
We all know that the sky is the limit when it comes to what you can spend on a watch. I'm going to give two simple, outdoor-oriented, practical options.
1. A Wenger Watches – if you're looking for something under $200, I'd take a look at the makers of Swiss army knives. I'll show you the one I've used for a couple years that I picked up for right around 100 bucks. It doesn't do anything fancy, but it looks good and is tough as nails. I like its minimalistic approach.
2. Suunto Watches –  Suunto has some good options under $200, too. However, if you're willing to spend just a little more, you get a lot for it. Mine is the Traverse Alpha Stealth. It's a smartwatch with an app that pairs with your phone. It would be ridiculous for me to tell you all that it does here, but here's the highlight reel. It has built-in GPS. I can find a new climbing route and click my watch adding a new waypoint. Fisherman can hit a honey hole and do the same and never forget where that spot was again. It has a compass, thermometer, and gauges barometric pressure & elevation. Really we could go on for while, but if there's a better budget-friendly outdoorsman's watch out there, I don't know what it is. When I first opened the package, I was disheartened to see that the watch needed to be charged due to its smart watch functionality. I was thinking about it not being a viable option for backpacking as a result. That fear has been dismissed; a charge lasts plenty long enough and the charger works quickly.
An Every Day Flashlight
I'm going to recommend a good, better, and best option in this category.
Good— the Streamlight ProTac 2Lx or HL depending on if you like battery powered or rechargeable. It's a good light at an affordable price.
Better— The Surefire Executive …it's a better light at a price that makes me scared to lose it but overall worth the risk.
Best— I think Surefire's new Tactician designed in collaboration with James Yeager will be a best EDC light option. I'm willing to bet on it. I've ordered my own, but I don't have personal experience to offer yet.
A Trama Kit
Preparation is peace of mind, and who doesn't need more of both. If in doubt, a tourniquet is always appreciated.
New Shoes
My 2017 favorites are the Salomon XA PRO 3D GTX.
They're rugged, comfortable, unassuming, waterproof, breathable, provide outstanding traction, and look good too.
A Gun Belt
My favorites are from Kore Trakline
and HTC's Every Day Tactical Belt.
Clothes
That's right, I said it. However, skip the mall and head straight for your local REI equivalent. Most of us don't want to buy clothes all the time. So get something that will be comfortable, look good, and last. My favorites over the years are my Mountain Hardware Jacket (it's over twenty years old, but it's most like the Boundary Seeker), A Marmot Gravity Jacket, a North-Face pull-over Wind-Stop light jacket, Prana shirts and pants. Oh yeah, and that old North Face trucker's hat that matches my son's. You may think that going to Eddie Bauer is the same thing— it's NOT!
A Nice Pocket Knife
My favorite utilitarian option for 2017 continues to be the Leatherman Skeletool.
My favorite quick opening EDC knife for 2017 is the P'Kal from Spyderco.
However, I'd recommend picking up the trainer too so you don't cut yourself.
A Good Back Pack
The two options I'd like to recommend are
and the
Next up…
Fill up that range bag.
I can't recommend these three options from HTC highly enough
The HTC Quick Response System
The Vantage Light Holster
A Match Grade Barrel
Like this barrel with extra bling from Faxon for my wife's Glock.
Solid Ear Pro
I'd snag these Howard Leights.
Never enough ammo.
When in doubt— buy more ammo.
Steel Target Systems
Steel targets from CTS and Shoot Steel are outstanding training aids.
My favorite steel target of all time is the short range rifle target from Shoot Steel.
Next…
Let's get optical
Red Dot
Get them a red dot for their rifle. Here's a Good, Better, Best option.
Good—the Holosun HS403C is an amazing option for the sub $300 price point; it offers incredible clarity, impressive durability, and above average battery life. I'd recommend this dot be paired with the AD-T1-10 STD from American Defense. I picked mine up from AIM surplus.
Better—The Trijicon MRO is the red dot I personally use most. It rides on my favorite rifle. I use the American Defense AD-MRO-10 STD mount.
Best—Aimpoint T-1 Micro it's the industry standard for a reason.
I've replaced all my mounts with American Defense mounts for their rugged, light weight, quick detach functionality.
Magnified Optics
Here are Good, Better, Best options for magnified AR optics
Good Vortex Spitfire 3x
Better Vortex Viper PST 1-6×24
Best Trijicon AccuPower 1-8×28
Another great optic gift option would be a 22 scope. Here's my favorite lightweight option: the `Leopold VX-1 2-7×28. It's a nice lightweight option that has good brightness, eye relief, and quality construction.
Buy A Blaster
Handguns
My 2017 handgun of the year goes to the M&P 2.0 compact. If they don't own this gun, they probably want it. If they do, they probably want another. I paired mine with a Spektre light bearing holster, the new flat faced trigger from Apex, and the new Inforce APLc weapons light.
If he or she has plenty of polymer and is looking for something a bit different, I'd recommend checking out the
Rock Island TCM
If they don't already have a small frame revolver, these are your best bets…
The Ruger LCR in 9mm
Smith & Wesson's 442 Pro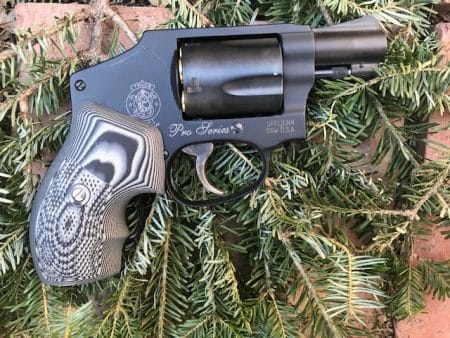 If the M&P 2.0 was on the right track, but not quite your significant other's cup of tea,
Consider the FN 509
Buy a Rifle
If you're looking to buy that gift this year that he or she looks back on and talks about with fondness forever, bite the bullet and buy a rifle! 
I'd look strongly at these three options: BCM Recce 16
,
(This is my personal favorite),
Accessorize that rifle
Whether you're looking to go over the top (like Stalone) or your person has a rifle and your looking for a more cost effective gift, here are my favorite AR accessories tested in 2017:
AR VZ Operator II G10
VZ Weapon Solutions AR Slim Rail Grips
A VTAC Sling
The BAD Vert Stock System
So there you go. I've included my favorites from 2017. If you hurry there's still time to get that special someone a truly special gift. Since it's the thought that counts, why not put some thought into it this year.
For those of you reading this because you just saw that crestfallen look again when your husband opened his gift– it's better late than never!