USA –-(Ammoland.com)- "Here's hands-down the dumbest argument against gun laws, and you hear it all the time" Allan Piper, Senior Politics Producer and narrator for a viral Now This News video assures viewers.  He's trying to refute politicians who say gun laws only affect the law-abiding.
"By that logic, it doesn't make sense to have laws about anything," Piper claims. "Can't have laws about stealing, because thieves don't follow the law." He goes on citing laws against murders, drugs, and traffic laws, using that to segue into a favorite talking point the citizen disarmament lobby uses,  "and you hear it all the time."

"Mothers Against Drunk Driving pushed for tougher DUI laws and enforcement." Piper relates," citing those and seatbelt laws for saving thousands of lives, "even though some people break them."

"These commonsense safety laws work," he observes, again repeating another familiar gun-grabber narrative. "And oddly enough, nobody has ever complained the government is trying to take our cars away."
Funny he should bring that up because the voices trying to do just that with guns are getting louder. And yes, in fact, there is a nascent global movement to ban cars that is gaining a foothold here. Give the cultural terraformers a few decades.
"So yes, people will break laws," Piper concludes. "But anyone who pretends that that makes it useless to even have a law is either lying or deluded."
Make sense? Only to those who don't understand he's projecting on both counts.
This self-appointed voice of reason isn't quite as authoritative as he gives himself credit for. Sure there are laws against speeding and drunk driving. Those are acts that endanger others. There are laws against actions endangering and harming others with firearms as well, and any honest analogy would end there.
Yes, absolutely it makes sense to have such laws even though criminals won't obey them, because if and when they're stopped or caught they deserve to pay for the damage they've done. No one argues otherwise about guns. But he wants to expand infringements and punishments to be applied to prior restraints that have nothing to do with harmful actions. That's bait and switch, and a very disingenuous form of argument.
As for his (Alinsky Rule 5) ridicule that "nobody has ever complained that the government is trying to take our cars away," the same can't be said about guns to the point that it's getting harder to deny. And as for making laws being "literally the only job" of lawmakers, yes, of course — within the confines of "the supreme Law of the Land" and their delegated authority. It doesn't matter how many "lying or deluded" Americans ignorant of that are "begging" for usurpations — the Bill of Rights is there to keep a majority from disenfranchising the individual.
Noting that Now This News was founded as a way to influence millennials with a "left-leaning" agenda  (and then some), its transparent deception to undermine private gun ownership is hardly surprising. A truism we see practically every time they open their mouths is that for "progressives," every day is Opposite Day. Were it otherwise, they'd embrace the right of the people to keep and bear arms as the ultimate egalitarian power-sharing arrangement.
Instead, even though they try to come across as edgy, sophisticated and hip, they're really just apologists for the state, and ultimately a "monopoly of violence" state at that. That's not exactly cutting edge for "journalists," except for the repackaging. And it's curious, that for social justice media warriors ostensibly opposed to government abuses, their "solution" is to help those they often pretend they don't trust to be the ones controlling the guns.
---
About David Codrea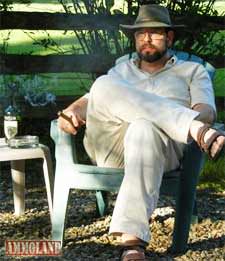 David Codrea is the winner of multiple journalist awards for investigating / defending the RKBA and a long-time gun owner rights advocate who defiantly challenges the folly of citizen disarmament.
In addition to being a field editor/columnist at GUNS Magazine and associate editor for Oath Keepers, he blogs at "The War on Guns: Notes from the Resistance," and posts on Twitter: @dcodrea and Facebook.