YouTube personality, Graham Baates, gives us a video review of the Auto Ordnance Victory Girls 1911.
U.S.A. –-(Ammoland.com)- Auto-Ordnance Corporation, a member of the Kahr Firearms Group, has released their Victory Girls 1911.  This is a refreshing twist on the recent resurgence of GI-style 1911s.  Few can argue the elegance of Browning's famous 1911, but why not ad some artwork?  That's exactly what Auto-Ordnance has done with some period-inspired laser etching and Cerakote coloring.
To pull directly from the product page we're given this description, "World War II themed "Victory Girls" 1911, designed to honor the women whose strength drove industry at home in support of our boys fighting overseas.
Beginning with a base 1911A1 GI Model in .45ACP, it has the standard 5" barrel, seven round magazine, and US property logo wood grips. The Victory Girl models then customized with deep cut laser engraving of a pin-up girl on the right side, and an updated "Rosie the Riveter" on the left. It also features the USAAC Star Roundel on both sides of the frame. The pistol is then given a worn look with a two-color Cerakote finish of Armor Black and Gunmetal Grey to resemble a World War 2 Fighter Plane
The Auto-Ordnance 1911BKO frame incorporates GI specs and features a matte black finished frame, barrel, and slide. The carbon steel slide, sear, and disconnector come from machining solid bar stock, then heat treated properly to assure durability and long life over many thousands of rounds. The low-profile sights feature a blade front sight and a rear drift adjustable for windage. The grips brown checkered plastic, with wood optional on the 1911BKOW model.
This model 1911 pistol shoots in .45 ACP, has a 5" barrel, 8.5" overall length, and weighs 39 oz. The 1911BKO, 100% made in the USA, and ships with one 7-round magazine. The BKO has a thumb safety, grip safety, and firing pin block.
The review sample I received was without a doubt a beautiful piece, but regardless of appearance, I want to know how a gun will run.  I hit the range with the Victory Girls for the standard battery of full-mag +1, "What's for Dinner" load testing, and a field accuracy test of five shots from seven yards using Nosler 230gr Match ammunition.
Are the Victory Girls just good looking or does the gun perform?
See the test results in the video below.
Those wanting to check out the gun simply by the numbers can reference the chart below.
Caliber
.45 ACP
Barrel
5″
Weight
39 oz.
Length
8.5″ overall
Safeties
Thumb safety, grip safety, firing pin block
Sights
Blade front, rear drift adjustable for windage
Magazines
One 7 round magazine
Grips

Brown checkered Plastic (1911BKO)
Checkered Wood Grips with U.S. Logo (1911BKOW)

Warranty
1 Year
From my experience it appears Auto-Ordnance has built both, "show" and, "go" with the Victory Girls 1911.  All of the classic lines of a GI 1911 accentuated with a beautiful laser engraving and Cerakote finish.  Despite the old lore of 1911s not liking hollow points I experienced no problems with loads from Federal, GBW Cartridge, Nosler, Remington, Sig Sauer, or Winchester.  The Victory Girls may lack night sights, a rail, or chainsaw attachment, but would be right at home as a display, BBQ, or range gun.
If you were looking for a closer shot of the Victory Girls take a look at the tabletop video below.
---
About Graham Baates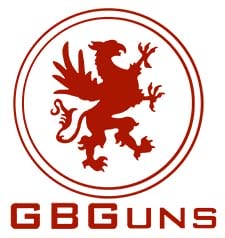 "Graham Baates" is a pen name used by a 15-year active Army veteran who spent most of his time in the tactical side of the Intelligence community including tours in Afghanistan and Iraq. Post-Army Graham spent some time in the 3-Gun circuit before becoming a full-time NRA Certified defensive handgun instructor and now works as an industry writer while curating a YouTube channel on the side. Visit Graham on Youtube .