U.S.A. – -(Ammoland.com)- ATF was "not allowed to physically examine the interior of the weapons" recovered from the Las Vegas shooter's hotel room, a new Freedom of Information Act production by the Bureau of Alcohol, Tobacco, Firearms and Explosives reveals. The baffling revelation appears on page 335 of a response sent to attorney Stephen Stamboulieh as part of an ongoing production of documents responding to his FOIA request.
This leads to another problem for those intending to challenge any finalized rule ATF issues on banning "bump stock"-type devices.
"ATF did not disclose that they had not examined the firearms prior to promulgating the rule," firearms designer and Historic Arms, LLC President Len Savage notes. "And now that the comment period is closed should they go forward with this rule under the Administrative Procedure Act that information can not be used in a court challenge because it was not submitted prior to closing of comments.
"DOJ is manipulating the APA to make sure that information will NOT be used to shoot down the rule," Savage concludes. "Does ATF prosecute its firearms cases like it promulgates rules, without ever looking at the evidence? ATF is currently attempting to criminalize an industry and a large swath of the population and NEVER looked at any evidence? They claim they were 'not allowed'? By whom?"
AmmoLand Shooting Sports News reported on the initial document production in April when Stamboulieh received a CD with 777 pages in four volumes within days of filing his request. Compare that to the response to an identical request by the Federal Bureau of Investigation: The Bureau essentially told him they didn't keep the kinds of records he was asking for and didn't have to give them to him if they did. And if he didn't like it, he could appeal.
"Tons of stuff here," Stamboulieh notes. "Some of it is a repeat of the previous production. There are also industry communications in here as well (NSSF, etc.) back and forth with ATF."
Document releases provided to date include:
Obviously "tons of stuff" is not hyperbole and much of it goes far afield of the original request. How some of it can be used to the benefit of gun owners remains to be seen. Much of it is probably of interest to the technically-minded and/or to lawyers, but some also offers more general insights into the players and machinations occurring behind the scenes.
For instance, in the June production, we find a Firearms Industry Associations "Open Discussion of Regulation and Policy Notes" recap, where NRA and NSSF, among others, offer views on a variety of "policy areas and legislation." If nothing else, it gives a feel for what is being signaled as accepted and some of the priorities being pushed outside of public scrutiny.
The May production includes a letter to President Trump complaining about an approval process for silencers taking 14 months. The March production includes information more directly related to the request, press release remarks on the Las Vegas shootings drafted for the Special Agent in Charge of ATF's San Francisco Field Division sent to the Deputy Assistant Director of ATF Field Operations – West for review.
And then there's the "not allowed to inspect" revelation from the July production. Without further information, that's unbelievable. And we're just now finding this out only because of a FOIA action? Without apparently even knowing what was used, how could ATF then turn around and upend established rules for any reasons that aren't political?
I've just scratched the surface on these documents and have not had time to even skim everything, let alone read, comprehend and analyze it. What you find that interests you, if anything, is for you to decide.
"This information demonstrates the agency's interaction with various groups and needs to be public," Stamboulieh said. "This release further shows how little even the ATF knows about the firearms involved in the Las Vegas Mandalay Bay incident and how the ATF's attempt at redefining a bump stock as a machinegun will likely fail without legislative intervention."
However, Stamboulieh commends the ATF for producing the documents at issue without necessity of litigation. In re the FBI's recent denial of the FOIA appeal for documents from the Mandalay Bay shooting, he said he would be "filing suit shortly for those documents."
In related developments, the Air Force agreed to pay costs and attorney fees for the lawsuit Stamboulieh filed in order to compel compliance with a Freedom of Information Act request for Texas church shooter court-martial records.
---
About David Codrea: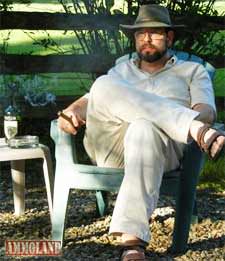 David Codrea is the winner of multiple journalist awards for investigating / defending the RKBA and a long-time gun owner rights advocate who defiantly challenges the folly of citizen disarmament.
In addition to being a field editor/columnist at GUNS Magazine and associate editor for Oath Keepers, he blogs at "The War on Guns: Notes from the Resistance," and posts on Twitter: @dcodrea and Facebook.