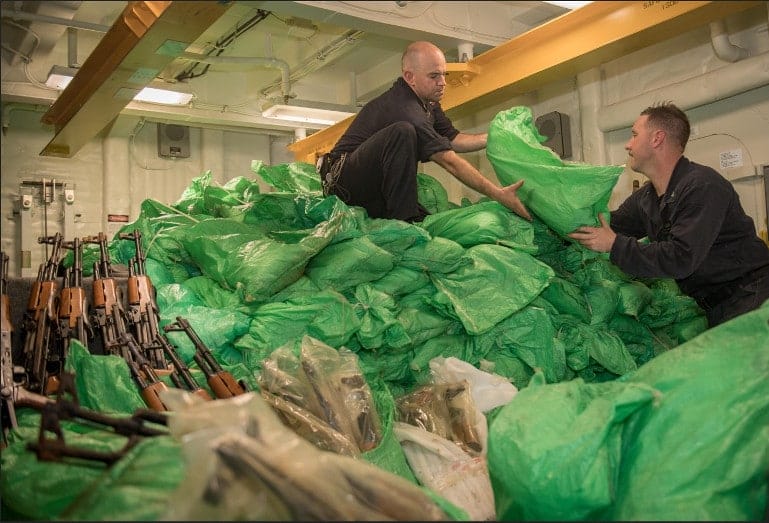 Arizona -(Ammoland.com)- An accurate count of the AK47 type rifles confiscated in the Gulf of Aden on 28 August 2018, has been released.
During 2016, the U.S. Navy intercepted and confiscated several shipments of small arms from stateless dhows in the Arabian sea. Thousands of AK type rifles, hundreds of Rocket Propelled Grenades (RPG) were confiscated, along with PKM general purpose machine guns and 21 .50 caliber heavy machine guns. Included in a haul by the French, were some 60 mm mortars,  anti-tank missiles, and 64 Dragunov sniper rifles. From a March 2016 navy.mil article:
The U.S. Navy Coastal Patrol ship USS Sirocco, operating as part of U.S. Naval Forces Central Command, intercepted and seized the shipment of weapons hidden aboard a small, stateless dhow. The illicit cargo included 1,500 AK-47s, 200 RPG launchers and 21 .50 caliber machine guns.

The Royal Australian Navy's HMAS Darwin intercepted a dhow Feb. 27, confiscating nearly 2,000 AK-47 assault rifles, 100 rocket-propelled grenade launchers, 49 PKM general purpose machine guns, 39 PKM spare barrels and 20 60mm mortar tubes.

A March 20 seizure by the French Navy destroyer FS Provence yielded almost 2,000 AK-47 assault rifles, 64 Dragunov sniper rifles, nine anti-tank missiles and other associated equipment.
More than two years has elapsed since the last reported seizure. On 28 August, 2018, another seizure was made from a stateless dhow. This dhow was in distress, its engines were inoperative. The initial count of AK type rifles was 1,000.  That number was a severe underestimate.
The Navy has released an accurate count of the AK-47 rifles confiscated on August 28, 2018 in the Gulf of Aden.  The count is 2.5 times the original estimate. The picture above is from the 28 August confiscation.  They look like Chinese type 56S-1 rifles to me. I am sure others can identify them more precisely. They appear in excellent condition. From defense.gov:
MANAMA, Bahrain — The guided missile destroyer USS Jason Dunham seized an illicit weapons shipment containing 2,521 AK-47 rifles Aug. 28, U.S. 5th Fleet officials announced today.

The weapons were found aboard a stateless skiff in international waters in the Gulf of Aden.

The full count follows an initial estimate of more than 1,000 rifles. The skiff was determined to be stateless following a flag-verification boarding conducted in accordance with international law. The origin and intended destination of the skiff have not yet been determined.
A prescient commenter at a previous article noted this:
Most sailors I knew from cross training 30 years ago would have reported 2000 AK if there had been 4000 originally. My army unit would have "borrowed" one each then reported the leftovers.

In the current politically correct navy they probably reported all of them.
It appears the U.S. Navy inventory procedures have tightened up from 30 years ago. Over 2,500 AK47 type rifles have now been reported. Where were the rifles bound? We do not know. Where will they end up? It is uncertain.
In the Gulf, Forbes reported in 2017 that prices in Yemen were about $1,200 per AK47.  2,500 rifles would be worth about three million dollars.
That is a nice haul for the USS Jason Dunham.  It should cover a few days operational costs.

---
About Dean Weingarten: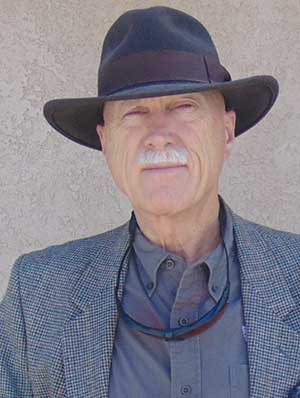 Dean Weingarten has been a peace officer, a military officer, was on the University of Wisconsin Pistol Team for four years, and was first certified to teach firearms safety in 1973. He taught the Arizona concealed carry course for fifteen years until the goal of constitutional carry was attained. He has degrees in meteorology and mining engineering, and recently retired from the Department of Defense after a 30 year career in Army Research, Development, Testing, and Evaluation.