Opinion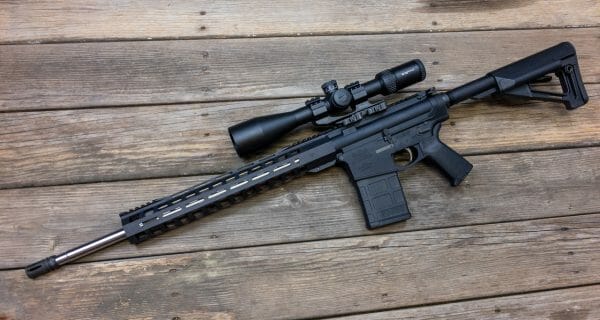 USA –-(Ammoland.com)- See this rifle? It's going to belong to one of you very soon when we give it away.
The kind folks at Palmetto State Armory sent this one to us for testing and evaluation and agreed that it would be a great idea to give it away to a lucky Ammoland reader. Oh, to add some more jazz, the winner will also get the Burris P.E.P.R. quick-detach scope mount and Vortex Strike Eagle 4-24×50 scope shown here.
We'll get into the details of the scope in a separate article, so here let's take a closer look at the Palmetto State Armory PA-65 AR-10 6.5mm Creedmoor Rifle.  
Since the 6.5mm Creedmoor Cartridge is longer than the standard .223 Remington with a maximum cartridge length of 2.825 inches, it requires an AR-10 platform. The PA 65 AR10 features a 20-inch barrel that is a heavy profile and made of 416R Stainless Steel. It keeps its stainless "silver" coloring, so to me at least, it looks pretty darn spiffy with the black receiver, black furniture, and black A2 flash hider. The 6.5mm Creedmoor barrel is driven by a rifle-length gas system and features a 1:8-inch twist rate which is relatively standard for this caliber.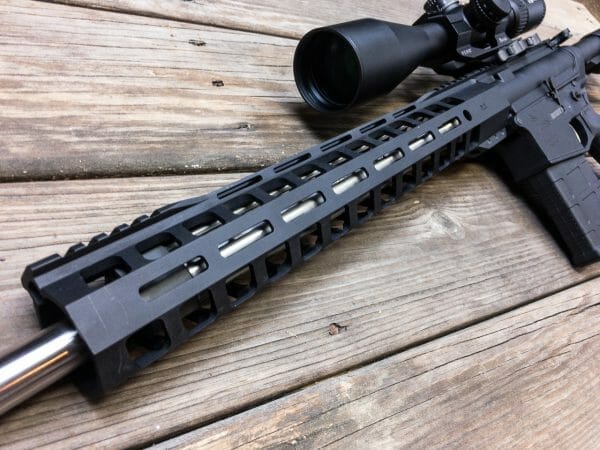 Both upper and lower receivers are 7075-T6 aluminum and are black anodize hard coated to MIL-8625 Type 3 class 2 standards. Up front, there's a 15-inch PSA M-Lok rail. I like it. It's lightweight and slender and feels good in the hand. It's also filled with M-Lok holes at the three, six, and nine o'clock positions and lots of other ventilation cuts to allow rapid barrel cooling. There's a rail extension on the rear that lengthens the receiver rail and a short rail segment up front in case you want to mount a backup iron sight. 
The bolt and carrier are Nitride treated for durability, slickness, and easier cleaning. The company also puts dual ejectors in the bolt to facilitate more positive ejection. I've not been able to see any observable difference in performance between standard and dual ejectors, but it's there if you care.  
Trigger
This rifle includes Palmetto's Nickel Boron trigger group. Naturally smoother and slicker than regular steel components, the trigger is crisper and a bit lighter than a standard mil-spec model. Its two-stage operation has a short take-up with just over a pound of pressure followed by short and constant travel that breaks with right around four (4) pounds of pressure. I could classify this trigger as somewhere between a mil-spec and match trigger. It's a noticeable improvement over mil-spec but still has enough weight and take-up for safe service and defensive use. 
Magpul Furniture
The rifle includes a 20-round P-Mag, Magpul MOE pistol grip, and Magpul MOE Stock. The pistol grip is black and features the MOE grip surfacing. You can use Magpul Storage Core gear in there to carry spare stuff or some emergency beef jerky if you like. The MOE Stock sports a nice and fat comb area for a good cheek weld, dual water-resistant compartment for spare batteries, parts, or snacks, and sling swivel and loop attachment points. It also has a rubber buttpad so when you lean your rifle against the wall; it won't go sliding out from under you.
Velocity
If you're the lucky winner, I wanted you to know in some detail what you're getting, so I set up a chronograph 15 feet from the muzzle and proceeded to shoot lots of ammo. OK, so maybe I didn't really have to, but it was a great excuse to spend some quality time with this rifle.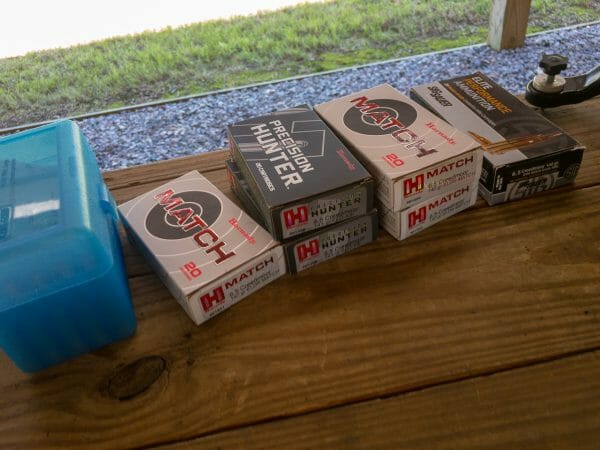 On the day I tested velocity, it was somewhat warm here in the Lowcountry of South Carolina at 85 degrees. We're also barely 20 feet above sea level, at least at the range where I was shooting. If you live at a higher altitude or will be shooting in colder conditions, your velocity may clock in a bit different than the results shown here. Also, I fired multiple shots and calculated averages to get the numbers shown below.  
Ammo
Average Velocity

(feet per second)

Sig Sauer OTM 6.5mm Creedmoor 140 grain
2,471
Hornady Precision Hunter ELD-X 6.5mm Creedmoor 143 grain
2,566
Hornady Match ELD 6.5mm Creedmoor 147 grain
2,617
Hornady Match ELD 6.5mm Creedmoor 140 grain
2,593
Accuracy
As the trigger is more of a service model than a target trigger, and because it has a four-pound weight, I elected to fire 100-yard groups with a best five of six model. I figured that the extra shot would help rule out shooter error.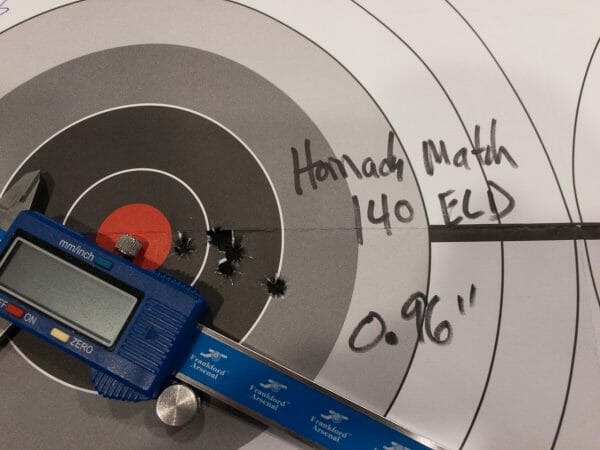 I did try something a bit unusual because I just happened to have five hand-loaded rounds tipped with Hornady 140-grain Match ELD bullets. I initially loaded these for a bolt gun, so the overall length is a bit long for AR-10 magazines. That doesn't mean you can't shoot them in the Palmetto State Armory PA65. You just have to load them singly through the ejection port. As you'll see by the group results below, the PA65 seemed to like those slightly longer cartridges quite a bit. 
Ammo
Five-shot Group Size

(100 Yards)

Sig Sauer OTM 6.5mm Creedmoor 140 grain
1.27"
Hornady Precision Hunter ELD-X 6.5mm Creedmoor 143 grain
1.12"
Hornady Match ELD 6.5mm Creedmoor 147 grain
2.03"
Hornady Match ELD 6.5mm Creedmoor 140 grain
0.96
Handload (long cartridge)
0.69
Based on this outing compared to the first time I fired groups, the rifle appears to like bullets in the 140-grain range a bit better. While I've gotten some respectable groups with the Hornady 147-grain match ammo, they've been more erratic. 
Usually, the rifle alone retails for $799.99 to $1,149.99 depending on Palmetto State Armory's current deal. However, with a bit of luck, you can get this one for absolutely nothing. Be sure to enter on our giveaway page!  
Palmetto State Armory PA-65 AR-10 Specifications:
Barrel Length: 20"
Barrel Material: 416R Stainless Steel
Barrel Profile: Heavy
Chamber: 6.5 Creedmoor
Twist Rate: 1 in 8"
Extension: M4
Gas System: Rifle-length
Gas Block Type: Low profile .750"
Upper Receiver: Forged 7075 T6 Aluminum
Receiver Style: PA10 Flat top with feedramps
Receiver Finish: Hardcoat Anodized
Forward Assist: Yes
Dust Cover: Yes
Handguard Type: Free Float
Handguard Style: PSA  Lightweight M-Lok Free Float
Handguard Length: 15"
Bolt Steel: 9310, Nitride treated with Double Ejector
Bolt Carrier Steel: 8620, Nitride treated
Staked gas key: Yes
Lower Receiver: Forged 7075 T6 Aluminum
Receiver Finish: Hardcoat Anodized
Fire Control Group: 2-Stage Nickel Boron Trigger Assembly
Buffer Tube: 7075 T6 Aluminum
Adjustment: 6-position telescoping stock
Stock: Magpul MOE, Black
Grip: Magpul MIAD, Black
Magazine: 20 Round PMAG
---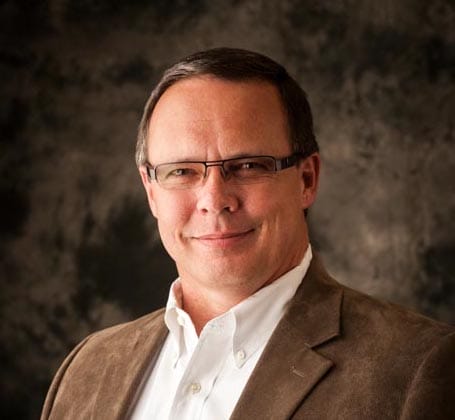 About
Tom McHale is the author of the Practical Guides book series that guides new and experienced shooters alike in a fun, approachable, and practical way. His books are available in print and eBook format on Amazon. You can also find him on Facebook, Twitter, Instagram and Pinterest.