GRINNELL, Iowa –-(Ammoland.com)- Brownells is challenging its customers and supporters to collectively donate $100,000 during the month of November to support three non-profit veteran charities. Brownells will match that donation up to $100,000 as a part of its #Operation100k event.
#Operation100k kicks off November 1 and runs through November 30, 2018. Visitors to Brownells' website will notice advertising for #Operation100k and will have the option at checkout to make a donation care of the event.
Customers may also donate directly to the event by visiting the #Operation100k page on the Brownells website, which also features an up-to-the-minute, visual depiction of how much money has been raised. Customers placing orders by phone may also make a donation.
"November is a special month in that we celebrate both Thanksgiving and Veterans Day," said Brownells CEO Pete Brownell. "Both holidays give thanks for the bounty of unique freedoms we enjoy as Americans. #Operation100K is our way of saying 'Thank you' to these amazing men and women."
At the end of November, Brownells will tally up the total amount of customer donations and match that number up to $100,000. The money will then be divided into thirds and distributed equally among the three following non-profit veteran charities:
Special Operations Wounded Warriors provides outdoor experiences, retreats, and assistance with therapies for Purple Heart recipients of the United States Special Operations Forces.

Folds of Honor provides scholarships and educational assistance to the families of veterans killed or disabled in action.

Mission 22 is dedicated to raising awareness and enlisting support to eliminate veteran suicides.
To learn more, customers can visit the #Operation100K page at Brownells.com.
---
About SOWW
Special Operations Wounded Warriors is a 501(c)(3) charity providing outdoor experiences and therapeutic retreats, as well as assistance with medical, physical and mental therapies for both veterans and active-duty members of the United States Special Operations Forces. SOWW serves those who received the Purple Heart, were injured in significant training incidents or suffer from PTS and TBI. For more information, visit www.sowwcharity.com.
About Folds of Honor
Folds of Honor is a 501(C)(3) nonprofit organization, rated a four-star charity by Charity Navigator and platinum on GuideStar, that provides educational scholarships to the families of military men and women who have fallen or been disabled while on active duty in the United States armed forces. Our educational scholarships support private educational tuition and tutoring for children in grades K-12, as well as higher education tuition assistance for spouses and dependents. Founded in 2007 by Major Dan Rooney, a PGA Professional and F-16 fighter pilot in the Air Force Reserves who served three tours of duty in Iraq, the Folds of Honor is proud to have awarded nearly 20,000 scholarships in all 50 states and some US territories, including approximately 4,000 in 2018 alone. For more information or to donate in support of a Folds of Honor scholarship, please visit www.foldsofonor.org.
About Mission 22
Mission 22 is a non-profit who combats the ever-rising veteran suicide rate. Every day, more than twenty veterans are lost to suicide. Mission 22 wants to bring that number to zero. It does this with three main programs; veteran treatment programs, memorials and national awareness. Mission 22 provides treatment programs to veterans for Post-Traumatic Stress, Traumatic Brain Injury and other issues they might be facing. It organizes events and builds memorials to create social impact and awareness for these issues. Mission 22 also has an Ambassador volunteer program for people to get involved as well. Ambassadors educate the public on veteran issues, help get veterans into Mission 22 treatment programs and create resources in their communities. Through these three programs, it enables a push for the betterment of our nation's heroes and stands united in the war against veteran suicide.
About Brownells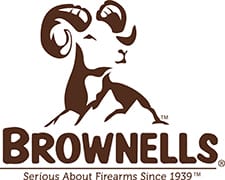 Serious About Firearms Since 1939, Brownells is the world's leading source for guns, gun parts and accessories, ammunition, gunsmithing tools and survival gear. With a large selection of both common and hard-to-find items, and an extensive collection of videos, articles, and gun schematics, Brownells is the expert for everything shooting-related. Committed to maintaining our great traditions, Brownells has more, does more and knows more – and guarantees it all, Forever. For more information or to place an order, call 800-741-0015 or visit Brownells.com. Stay up-to-date with Brownells on YouTube, Facebook, Twitter and Instagram.