Disclosure: Some of the links below are affiliate links, meaning at no additional cost to you, Ammoland will earn a commission if you click through and make a purchase.
Idaho – -(AmmoLand.com)- Recently I was planning my August backpacking trips into the Frank Church River of No Return Wilderness Area and getting the gear lined up. That may sound a little strange worrying about a trip in August while we're barely into January, but if you're an Outdoor Writer, it can take some significant scheduling to line up your year. Even with minor details such as which knives we will be carrying on the trip, which in this case will be a Buck 112 Ranger LT knife.
For instance, right now I'm getting things lined up for a fishing trip that my daughter and I are going on at the historical Plummer's Lodge in the Northwest Territories. An airgun hunt to Africa, hog hunt in Texas, exotic hunt in Texas, deer hunt with Gut Daddy (They have a unique gutting system to help you out) and numerous other trips. YouTube shootings etc. etc. To make everything flow smoothly, it takes planning.
So with the above said, when I got back home from the SHOT, I had two Buck 112 Ranger LT knives waiting for me to review. It is exactly like its larger cousin the Buck 110 Folding Hunter LT knife, except that it is smaller. It has a 3-inch blade compared to the three ¾-inch on it's grown up cousin.
Decades ago when the kids were small, and money was tight, I had lost or broken my hunting knife. Buck had just come out with an orange plastic handled knife called the Buck Light. After a few years, it disappeared off the market but now 25 yrs. Later I assume that it was brought back to life under the Buck LT line, which according to my memory is nearly the same knife as the current Buck LT knives.
Back in those days, I used knives hard, and the original Buck Light knives would last me for a few years. So in my mind, they're not a lifetime knife. The reason I recommend them is that they are super lightweight and economical so that if you forget and TSA confiscates one you won't need counseling to get over the experience.
So, I love that they offer their LT series. It is a lightweight, functional knife with a great blade design which works great for an EDC or as a hunting knife. I have field dressed at least 100 deer with this design of a folder.
It comes with a stout polyester sheath that has a snap down flap. The knife sets tightly down in the sheath, and with the flap, it should never fall out in a horse wreck or when you wipe out on a fall while elk hunting.
So if you're in the need for an EDC or backup hunting knife check out the Buck 112 Ranger LT Blade. I always favor a three ½-inch blade, but for those of you that favor a 3-inch, I think you'll like this one. I can't wait until the late summer backpacking trips to test it out.
We will close on the specs and a little history:
Back in the 1960s, the famous 110 Folding Hunter could be found on a lot of sailor's belts in the Navy. A fight between sailors resulted in a captain issuing a decree that knives carried could not have a blade length of a certain size. The 110 ended up being too long, so Buck Knives took the initiative and created the Ranger, a version of the 110 with a shorter blade.
A modern twist to the Ranger, the new light version closely resembles the well-built Ranger but with a decrease in weight, making this version easy to carry. By utilizing the same famous steel, the heavy bolster and handles were replaced with a lightweight molded nylon to reduce weight while maintaining the same quality and rigidity.
Buck Knives 112 Ranger LT Folding Knife SPECS:
BLADE SHAPE: Clip
BLADE THICKNESS: 0.120″
BLADE LENGTH: 3″ (7.62 cm)
CLOSED LENGTH: 4.25"
WEIGHT: 2.5 oz (70.87 g)
HANDLE: Nylon
CARRY SYSTEM: Black Polyester Sheath
ORIGIN: Made in the USA
---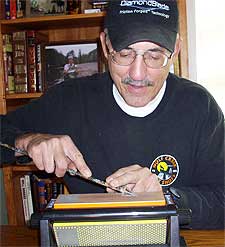 About Tom Claycomb
Tom Claycomb has been an avid hunter/fisherman throughout his life as well as an outdoors writer with outdoor columns in the magazine Hunt Alaska, Bass Pro Shops, Bowhunter.net and freelances for numerous magazines and newspapers. "To properly skin your animal you will need a sharp knife. I have an e-article on Amazon Kindle titled Knife Sharpening for $.99 if you're having trouble."