Idaho – -(AmmoLand.com)- It seems like that there are trolls out there that their whole purpose in life is to spew out rude & hateful responses on the internet. Being a writer, I could give 100 examples but here is one of the hundreds that I've received.
I used to rodeo a lot, and this past summer wrote an article on what it is like to crawl down in the chute on top of a rank horse or bull.
The very next day, some troll wrote in a comment about how the humane society and every other decent human in the world should condemn rodeoing. He went way off on a tangent which was hard to follow. Turns up that he lived in California and even though this article ran in a paper in Idaho due to his diligent searches he came upon it right when it published and had to do his virtual posturing bit.
Most of the above type of trolling is done on a professional level by the radical left, but there are a few judgmental types on the right too, unfortunately, which is why I am writing this article today. For those people, I'd invite you to ponder the topic today and consider all of the facts and tell me what you'd do if you were in the knife manufacturers moccasins so to speak.
Here is what I am talking about. Anytime I write a Product Review about a knife made in China the nay sayers come out of the woodwork to condemn the knife and proudly state that they only buy knives made in America.
Before we go any further let me make something super clear. I am a big-time American. I'd love for companies not to outsource any production. It can and has been my job in the past that got out sourced and has also probably happened to a lot of you too.
But the real cause of this is two things:
The customer.
The US Gov't.
Let me give you some of the facts. I do a lot with knives. This year I had Knife seminars in Reno at SCI, the next week at DSC in Dallas and last week four in Vegas at SHOT and this Friday in Boise at the CC Wildgame Feed. I've also done hundreds of Knife related seminars at Bass Pro Shop, Cabela's and Sportsman's Warehouse.
Here's what I see on a daily basis while conducting seminars. I bet 80% of the people that come in the store and buy a knife pay $7.99-$17.99 for a Chinese knife. So, what if you owned a knife company? Would you not offer them one? Before you act like Rambo and jump on the table burning your bra, remember, you are automatically going to lose 80% of the knife sales if you don't offer a Joe Cheapo knife.
So the truth of the matter is that when you buy a cheap product, you either force companies to cheapen their product or go out of business. Here's an example on a personal level. One time while working for Con Agra they had a video training series for us in which Tom Peters (A popular speaker at the time) said when we buy cheap products, we force companies to either cheapen their products or go out of business.
Shortly after that, something happened to make me realize that Peters was correct. At the time, we had five beef plants, four pork plants, and three lamb plants. At the Greeley plant, we killed up to 6,000 head/day. At the time, we used 5.5 boxes per head. So we had a lot of buying power.
At the time Inland Box Co. made the best boxes and charged us $.70/box. Stone Box Co. came in and only charged $.65. Our corporate told Inland to either drop their prices, or we'd go exclusively with Stone. That left Inland with two choices. Cheapen the box or lose the business of the second-largest meat company in the world.
They went with lighter cardboard which of course cheapened the box. In these scenarios, all of us Americans wail and moan about how the quality of American products have dropped. But whose fault is it? It is ours the consumer!
Another example. For the past 14 yrs. I have talked to most of the major, higher-quality knife companies about producing a boning knife for the outdoorsman after 10 yrs. I finally found an interested company. I took him into a beef plant to demo to him what we needed to produce and laid out the design.
To produce it at his regular Plant in it would cost us $13.00. China offered us the same knife for only $7.00. To get your product in the larger box stores, it has to be below a certain price point. What would you have done? (p.s.-in the end he didn't pay me, dropped the product and that was the end of it).
So, with the above scenarios who do you think is to blame for the cheapening of product in America? I'll tell you; it is the consumer.
OUTSOURCING
Over the past decade, I have noticed that a lot of the outdoor companies outsource their production overseas. I hate this. Of course, a lot of this is due to cheaper labor, but another big cause is the extreme amount of government interventions and over-regulation. President Trump has made great headway in removing the painful burden of Federal regulation, but there is still work to be done.
Over seas, our competitors don't have to deal with the USDA, EPA, OSHA and all of the other governmental agencies that manufacturers here in America do. Here's an example. A lot of hides get shipped overseas to be tanned. The EPA made it unbearable to dispose of the necessary chemicals used in processing cattle hides here, so it was easier and cheaper to ship them to Japan. Japan just dumped their chemicals into the ocean. While we don't want to encourage this behavior, why doesn't America put in place higher tariffs to make it a level playing field for hide makers?
So when Obama proudly boasted how many jobs he and Government had created that was a flat out lie. The government doesn't create ANY jobs. Reagan said it best. All the government needs to do is to get out of the way and quit over-regulating businesses so they can flourish.
I could give numerous examples about governmental over reach but will have to wait until I retire or I would never be able to get another job or consulting job in my line of work due to government retaliation.
SUMMARY:
So, yes, I am a big-time American but what is a company struggling to survive supposed to do? Produce all of their knives in America and lose 80% of the knife sales? When it gets down to it. Us consumers are the ones that will decide what they have to do.
---
About Tom Claycomb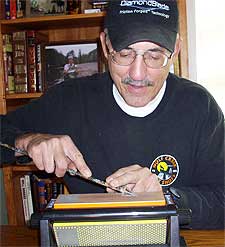 Tom Claycomb has been an avid hunter/fisherman throughout his life as well as an outdoors writer with outdoor columns in the magazine Hunt Alaska, Bass Pro Shops, Bowhunter.net and freelances for numerous magazines and newspapers. "To properly skin your animal, you will need a sharp knife. I have an e-article on Amazon Kindle titled Knife Sharpening for $.99 if you're having trouble."
Disclosure: Some of the links below are affiliate links, meaning at no additional cost to you, Ammoland will earn a commission if you click through and make a purchase.