Opinion
USA – -(AmmoLand.com)- A recent AmmoLand News piece about NASCAR rejecting gun ads ruffled my feathers, so humor me and set right back a spell while I tell you a little story.
While I can't find the email anymore (it was several years ago), I'll never forget it, or the person who wrote to me. Armed American Radio was not the 225 station powerhouse it is today but rather a small, one hour program heard only in Atlanta by radio waves. Fortunately, the iPhone, released only two years earlier, and the internet were enabling folks to listen to things across the country they may not have otherwise heard. As a result, AAR had a growing fan base across the nation, bringing me back to that email I mentioned. It came from someone who felt compelled to write when he heard me say on-air that I had arrived at the studio just in time for the live show after returning from the Mother's Day weekend race at Darlington Motor Speedway earlier that afternoon.
At that time, NASCAR was reeling from the 2008 collapse of the economy, and the writer thanked me for supporting the sport publicly during that broadcast. He also mentioned that he loved the show but couldn't listen live as he was "always returning home from a race."
That got me wondering, alright – who was this person? Just a fan that went to every race or was it someone who worked for NASCAR? A driver, maybe? I responded, thanked him for the kind words, and asked if he was associated with NASCAR. As it turns out he was a pit crew member, front tire changer to be exact, with the then Bobby LaBonte #96 car. We exchanged emails, he invited my family to the Atlanta track as a guest of the team, and my friendship with NASCAR flourished. It would include trips to NC and tours around the facilities of the biggest names in the sport, including Hendricks, Stewart/Hauss, and Richard Petty Motorsports, to name a few.
It was evident to me that NASCAR team members (the many I met and now hold as close friends) and AAR shared the same values including the love of God, country, fast cars, BBQ, and you guessed it, guns.
As a lifelong fan of stock car racing, that email allowed me the opportunity to live a dream that I never thought would come true. Over the years I've shaken hands with and entered the pre-race drivers meetings with NASCAR royalty, men such as Rick Hendricks, Coach Joe Gibbs, and Jack Roush, for example.
I've met drivers and their wives, taken my kids, extended family and friends to races with the teams and sat in the crew box at Talladega Motor Speedway right behind the crew chief during the race. Hell, I've been to Richard Petty's home in NC for a private wedding ceremony.
I've loved the sport for years, and I've been blessed by God to see it from deep inside. If you've never been to a race, it's difficult to understand the thunder and roar of a pack of 38 insanely powerful machines being driven to the edge by women and men with nerves of steel and the balls of Godzilla.
Unfortunately for NASCAR, fewer and fewer of us are enjoying a day at the track.
We've seen the attendance drop from its peak 10-15 years ago to include several tracks removing entire grandstand sections. I've watched Bristol Motor Speedway, the Colosseum of motorsports, decline from sold-out ticket sales of 110,000 to a mere 40,000 this year alone.
Thanks to that young man a decade ago, I know NASCAR. At least I thought I did.
So I tell you this for a reason. I did a little checking around, and I couldn't confirm what I read yesterday from anyone I spoke to inside the sport, (who for obvious reasons will remain nameless). I was told by all but one that they don't believe they would see the day that NASCAR would alienate their "entire fan base." I reminded them that I bet they never thought they would see the day nearly 50% of Americans would consider voting for a Socialist. They shook their heads in agreement.
Take this from Beyond The Flag by Michael Eubanks four months ago: "Whether race fans want to admit it or not, auto racing has always been and likely will always be a niche sport, and there's nothing wrong with that. Plenty of other big-league racing series such as Indy Car attract smaller crowds and survive just fine."
NASCAR might not be as popular as it once was, and it may even shrink more over the coming years, but as long as there is even just a small group of dedicated fans who passionately love the sport, it will live on for many years to come.
Here's my advice to the people that run NASCAR. If you do choose to alienate that shrinking base of "dedicated fans who passionately love the sport" (read: gun owners), we will leave you with overhead blimp shots that make today's crowds look huge. Go ahead, NASCAR, try to fill the stands with a bunch of David Hogg, Moms Demand Action, Everytown for Gun Safety, urban, progressive, skinny jean wearing, soy sipping, man-bun wearing, antifa loving, gun-hating socialists.
I won't be around to see how that turns out for you.
Mark Walters
---
About Mark Walters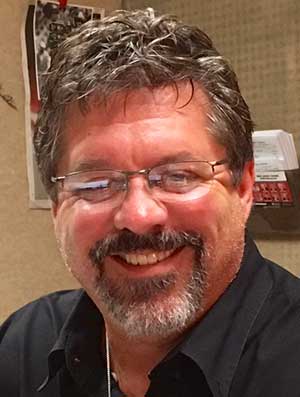 Mark Walters is the host of two nationally syndicated radio broadcasts, Armed American Radio and Armed American Radio's Daily Defense with Mark Walters. He is the Second Amendment Foundations 2015 Gun Rights Defender of the Year award recipient and co-author of two books, Lessons from Armed America with Kathy Jackson (Whitefeather Press) and Lessons from UnArmed America with Rob Pincus (Whitefeather Press)