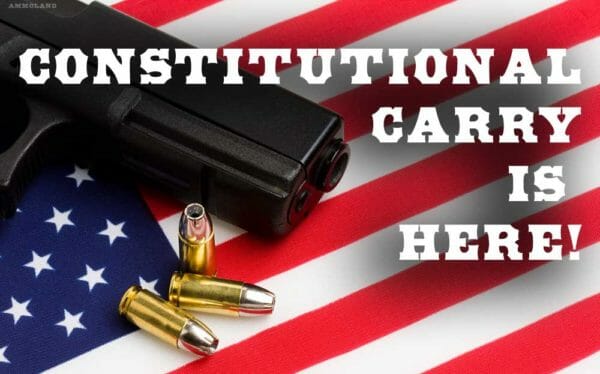 U.S.A. –-(Ammoland.com)- US News and World Report rates the states for public safety. The rating takes both property crime and violent crime into account. The ratings use the Federal Bureau of Investigation (FBI) data from 2017 for the article this year, as the latest data available.
The top three states for public safety this year are Maine, Vermont, and New Hampshire. All three are Constitutional Carry states, which means no permit is required to carry a loaded handgun in most public places, openly, or concealed. That was the state of the law in the nation when the Constitution was ratified on 4 March, 1789. Constitutional carry existed in all states for the first four decades of the Republic. Then states and the courts started chipping away at the Second Amendment.
Vermont has always been a Constitutional Carry state. No permit has been required to carry handguns there since the Constitution was ratified.
Maine became a Constitutional Carry state in 2015. At the time, those opposed claimed that Constitutional Carry would increase street violence. From pressherald.com:
Tom Franklin, president of Maine Citizens Against Handgun Violence, predicted that passage will lead to more street violence and deaths. The group works to prevent gun violence through gun safety and education.

"I believe this bill reflects the current state of dysfunction in Augusta," Franklin said Monday night during a telephone interview. "It does not reflect the wishes of Maine people."

He said his group is deeply concerned about allowing people to carry handguns without a permit.
It hasn't happened. Maine followed the same script as has happened in other states that restore Constitutional Carry. Mostly, nothing but a restoration of personal freedom.
New Hampshire restored Constitutional Carry in 2017.  Opponents said the law would result in dead kids. From nhpr.org:
Although those in favor of the legislation argued the bill would not be a safety hazard, Rep. Wayne Burton of Durham told his colleagues it was too risky.

"I think a few inconvenient people is far less important that 12 dead kids," Burton said Wednesday.
It did not happen. New Hampshire continued to be a very safe state.
Of the top ten states on the US News and World Report list, five of them are in Constitutional Carry states. Those states inculde Idaho and Wyoming. They are shown in bold print.  The top ten are:
 Maine
 Vermont
 New Hampshire
 New Jersey
 Idaho
 Virginia
 Rhode Island
 Connecticut
 Wyoming
 Massachusetts
New Jersey, Rhode Island, and Massachusetts are "may issue" states. Carry permits are issued in those states at the discretion of the authorities. Virginia and Connecticut are "shall issue" states.  Idaho restored Constitutional Carry in 2016. Opponents said it would endanger the public and law enforcement officers. From freebeacon.com:
"If signed into law, SB 1389 would dismantle our current system and put Idahoans at risk, including law enforcement officers who risk their safety to protect us," Sharp said. "Moms across Idaho will continue to fight against this bill and to advocate for safer gun laws—our families' lives depend on it."
Idaho followed the same script as New Hampshire. Nothing much happened. That has been the story across the United States as 13 states joined Vermont as Constitutional Carry States. The right to keep and bear arms is restored back to what it was at the nation's founding. People who are not prohibited from owning arms can carry them most places without worrying about being arrested, fined, and jailed.
Other than an increase in personal freedom, greater respect for the Constitution and the rule of law, very little happens.
According to this poll, about 20% of United States registered voters oppose any limits on government power. The Second Amendment is all about limits on the power of government.
The history of Constitutional Carry shows there is nothing to fear from restoring Second Amendment rights to what they were when the Second Amendment was ratified.
---
About Dean Weingarten:
Dean Weingarten has been a peace officer, a military officer, was on the University of Wisconsin Pistol Team for four years, and was first certified to teach firearms safety in 1973. He taught the Arizona concealed carry course for fifteen years until the goal of constitutional carry was attained. He has degrees in meteorology and mining engineering, and recently retired from the Department of Defense after a 30 year career in Army Research, Development, Testing, and Evaluation.