U.S.A. – -(Ammoland.com)- "The combination of guns and alcohol is especially dangerous, and far too little has been done to address it," the Bloomberg Opinion Editorial Board hyperventilates. "Federal law doesn't restrict access to guns by people with a history of alcohol abuse, and fewer than half of U.S. states impose prohibitions of this kind."
You see where this is going. And to prove how "evidence-based" their conclusion of heightened danger is, the Bloombergians cite a 2013 "report" by "a consortium of leading researchers," comprised of unbiased, honest brokers such as Lori Haas, Josh Horwitz, and Garen Wintemute.
No agenda in that "science"…
Then the editors cited a more recent "study," one claiming "Handgun purchasers with a prior DUI have a greater risk for serious violence…"
"Our study suggests that handgun purchasers with a DUI conviction on their record at the time of purchase have a higher incidence of future violence and crime compared to purchasers without DUI convictions," author/contributor Rose Kagawa asserts.
"Suggests"? The title claims it's a done deal. And these people want disarmament edicts enacted based on suggestions? And their data is based on "arrests," not "convictions"? Hey, that seems "good" enough for Red Flag Laws.
What's missing from all the smoke and noise is an indication of how many who are actually committing "crimes of violence" with guns are already "prohibited persons" for other reasons. A common bait-and-switch is to draw general conclusions from tainted populations—that way, by not showing which part of the whole engages in destructive and criminal behavior, they can present risks as across-the-board, rather than mostly confined to aberrant subsets.
Put another way, how many NRA members, arguably the most heavily-armed civilian population on the planet, have first been convicted of driving under the influence and then been convicted of "murder, rape, robbery or aggravated assault"? With all that data, the agenda "scientists" ought to be able to answer that one in a second.
"It's hardly draconian, banning firearm transfers to anyone convicted of three or more alcohol-related driving violations in five years," the Editorial Board asserts. "The District of Columbia prohibits firearm sales to anyone convicted of two or more alcohol-and-driving violations, also within five years."
They're moving down, aren't they? Three, then two…
Do you think any would say "No" to "one"? Face it, doctrinaire gun-grabbers don't want us armed even if we have no convictions. This isn't about public safety, it's about another inroad to total citizen disarmament.
As for people who have proven they can't or won't control themselves, taking their tools but leaving them able to harm others is never the solution. And that's why real due process is so important.
And it's curious that the gun-grabbers all seem silent on the population with a documented "increased risk for problem drinking," not to mention "a mental health crisis" over suicide: The "Only Ones."
"[L]ike gun owners with convictions for domestic abuse, gun owners with DUI convictions are a discrete and dangerous group," the lackeys for the man who would be king conclude. For lawmakers eager to make progress against gun violence, they're too good a target to ignore."
Interesting choice of a word, "target." When you're talking about human beings, those who would rule prefer if they can't shoot back.
---
About David Codrea: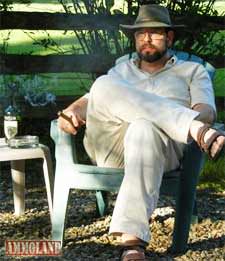 David Codrea is the winner of multiple journalist awards for investigating/defending the RKBA and a long-time gun owner rights advocate who defiantly challenges the folly of citizen disarmament. He blogs at "The War on Guns: Notes from the Resistance," is a regularly featured contributor to Firearms News, and posts on Twitter: @dcodrea and Facebook.