Las Vegas, NV – –AmmoLand.com)- SHOT Show 2020 is in the rear-view mirror. Bigger than ever, at least as measured by the number of companies exhibiting, this year was chock full of new announcements and optimism.
In all the years I've been going, I've never received so many pre and mid-show press releases. The National Shooting Sports Foundation, who runs the event, had to add yet another floor for new tabletop exhibitors are on the waiting list for show floor space. That's a great sign for our industry. Here's a quick look at just a few of our finds from SHOT Show 2020.
Sig Sauer P210 Carry Model
If you're a fan of the classic and elegant Sig Sauer P210, you might be interested in the forthcoming Sig Sauer P210 Carry model. Constructed with the same full-length rail system and buttery smooth operation, you'll find this model lighter and more compact. Even with its lighter aluminum frame, it still has that solid feel and enough weight to completely soak up the minimal 9mm recoil. The grips appeared to be wood at first glance, with a black on black finish, but they're made from G10 for near-infinite durability. The P210 Carry holds eight rounds in the single-stack magazine plus an extra in the chamber. Shoots like a dream.
Mantis Blackbeard System
The Mantis folks have been hard at work with a brand-new product for AR-15 rifle and pistol owners. The Blackbeard system is not a sensor but works together with the company's Mantis X series of shot analysis devices. The Blackbeard is a two-part system including a replacement "magazine" that serves as the power source and a bolt and carrier group. The combination allows you to train with your normal rifle, optics, and trigger setup. It resets the trigger after each press; no more partial cocking between dry fire "shots." Since the system completely replaces both magazine and bolt system, there's no way it can fire anything, so it's safe to use at home provided you store the real stuff elsewhere.
Real Avid Smart Mag Tool for Glock
Real Avid solved the problem of cleaning Glock magazines. If you've ever tried to remove the baseplate from a standard Glock mag, you've probably cursed while tearing off some skin and nails. They're a giant pain in the @ss to remove. This clever little device provides the right pressure and leverage in all the right spots, allowing you to use big muscles, instead of fingers, to break the baseplate free from its pressure mounts. Available on Amazon. #add
Vanquest Urban EDC Series Bags
Vanquest Gear has a new line of urban-friendly concealed carry packs and bags. No visible MOLLE attachment, no flat dark earth colors, and no tactical appearance means that you'll blend right in when traveling about the suburbs. The packs have internal carry compartments that you can configure for handgun and magazine storage and easy access.
SHOT Show 2020 crowd
SHOT Show contains 12.5 miles of booth aisles (literally) for its thousands of exhibitors. Attendees number in the 60 to 80,000 range most years. This year, the NSSF cracked down even more on admission criteria, and that turned out to be a good thing. The entire purpose of the show is to allow manufacturers to show their new wares to retail buyers and secondarily media. They're there to do business for the coming year, not show goodies to tire-kickers with no buying authority. I think the show was better for it as it was easier to meet, see the gear, and travel. The prevailing attitude was one of optimism, and for the first time I can remember, that positive outlook wasn't driven by fear of what might be banned with the next election. Of course, at the end of the day, the aisles out were still completely jammed, fewer people or not.
Lyman Accusight Universal Sight Adjuster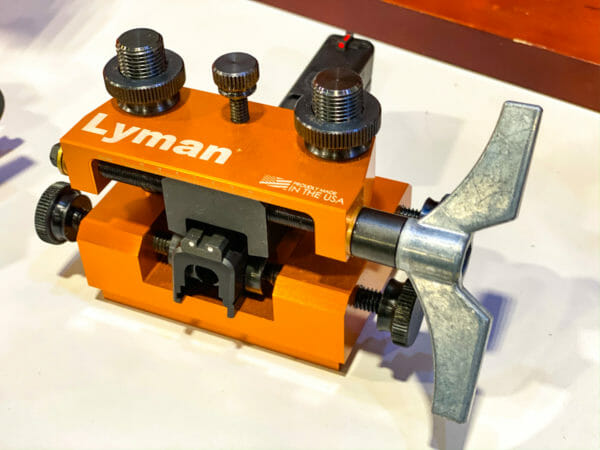 Lyman has a new Accusight universal sight pusher. This is going to be a hit for anyone with a few handguns because a couple of sight upgrades can justify the purchase of this device. It allows you to effortlessly remove and install even the most difficult sights without damaging your handgun. The unit adjusts to different slide sizes and can be used on both rear and front sights. I'm anxious to get my hands on one of these.
CCI Clean Ammunition
CCI Ammunition has a new line of 22 rimfire ammo that models the Syntech centerfire concept. CCI Clean Ammunition uses polymer coating around lead projectiles to keep lead off your hands and out of your barrels and suppressors. It's a great idea, especially if you use a 22 silencer. Those quickly get completely polluted with lead residue that's not only hard to clean, but potentially dangerous. Cool stuff!
Medical Advice from Cerakote?
One fixture of SHOT Show that never disappoints is the advertising by the folks at Cerakote. Some years they apply targets to the "aiming zones" of all bathroom urinals complete with helpful corrective actions should you pull the shot low left, high right, or off-target altogether. This year, the company took a different approach to promote their variety of Cerakote color offerings. Still placed in the bathrooms, the ads inquired, "What color are you spraying?" We'll leave it at that but do read the photo captions.
MTM Slide Ammo Boxes
As an avid reloader, I use a lot of plastic ammo boxes. All of them open and close using molded plastic hinges. On all of them, those hinges break with repeated use. The new MTM Side Slide ammo boxes uses a sliding door on top. No plastic hinges mean no broken hinges. Simple but brilliant. I'll be stocking up on these.
Tippmann Armory Gatling Gun
In the "I want one just because" category is the Gatling gun from Tippmann Armory. This beautifully machined classic hand-cranked Gatling gun is chambered in 9mm and uses standard Glock magazines. Get a 33-rounder or even a drum and go to down. I think my favorite part of this is the juxtaposition of classic steel and brass and knobby inflatable tires. Somehow it just works. Those big inflatable tires do have a point — it's practical to tow around the property behind an ATV or golf cart. Turning ammo into noise one crank at a time…
That's just a taste of SHOT Show 2020. With over 2,000 exhibitors and all those miles of products, we'll be talking about new gear for months to come.
---
About
Tom McHale is the author of the Practical Guides book series that guides new and experienced shooters alike in a fun, approachable, and practical way. His books are available in print and eBook format on Amazon. You can also find him on Facebook, Twitter, Instagram and Pinterest.
Some of the links on this page are affiliate links, meaning at no additional cost to you, Ammoland will earn a commission if you click through and make a purchase.