U.S.A. –-(AmmoLand.com)- I've finally found the perfect cooler-The Grizzly 60 Cooler. Us outdoorsmen all fight against a common enemy whether we're fishing, hunting or camping. If we're out in the wilds for days on end we have to keep our food cool. For instance, here in Idaho if you're fourwheeling or elk/antelope/deer hunting out on the high desert it can get blistering hot. We need a cooler that is insulated enough to keep our food from spoiling but it is rough country so Styrofoam and flimsy coolers are out of the question. So, we need a well-insulated cooler and it also has to be stoutly built to stand up to the rigors of fourwheeling that we do to get to our final destinations. That's where the Grizzly 60 Cooler comes into the picture.
Like with any purchase you have to decide what your objectives are. After I did that, I discovered that the Grizzly 60 Cooler perfectly fit my needs. Here were the objectives that drove me to this conclusion.
I needed a cooler large enough to hold food for a weeklong elk hunt in the high country.
I wanted a stout cooler that could handle the rigors of four-wheeling and strong enough to set on.
Have the ability to keep food cold for a week-long hunt.
That was pretty much my objective. So why did I pick the Grizzly 60 Cooler? First Let's hit the big decision we all have to struggle with. Cheaper coolers are thin-walled and only keep things cool for short periods of time. Some of the nicer ones have super thick walls but can't hold much. I've been looking for a good cooler that landed in the middle.
Then it doesn't matter how many features a cooler has, if it can't hold up to bouncing around in a boat or in back of a pick-up, in the end it is worthless. So to me, the Grizzly 60 met my list of requirements.
Now to go over some features that sweetened the pot. It is IGBC Certified which means that it is an approved food storage option on National Forest Lands in grizzly bear habitat. This is the ultimate rating! If you've never been around bears then think of a 500 lb. raccoon on steroids.
I also love the handles. There are stout rope handles on each end and molded-in heavy duty handles. It also has a thick rubber seal that presses against a lip to seal in the cold/heat and a big plug so you can drain water.
Here's a unique feature that surprised me. The specs say that it is dry ice compatible. I've always been scared to carry dry ice in my coolers because I was afraid that the extreme cold would crack the cooler. Don't forget to unscrew the drain plug so pressure doesn't build up.
Another cool feature is that it has two tiedown slots. These will be great to secure the Grizzly 60 Cooler in your truck, four-wheeler, or boat. It also has a small dry goods trey that slides along the top.
Myself, I felt like the 60 was the best size for me. If you want a smaller or larger Grizzly, they come in eight size options. It comes in eight color options. (Although there are also some licensing options).
I've got numerous hunts, four-wheeling and fishing trips lined up for this year plus trying to plan some adventure with Fredy and Brian. If my Grizzly 60 Cooler survives the year then it really is bear-proof!
The Grizzly 60 Cooler's MSRP is $349.99 and as is usual, we will finish with the specs:
SPECS:
60-quart capacity
30 lbs. empty
RotoTough™ rotationally molded construction
Environmentally friendly pressure-injected insulation
Molded-in hinge with stainless steel pin
2" drain plug for easy, quick draining
Full length drain channels for complete draining
BearClaw™ Latches require no hardware and keep a secure grip
Non-slip non-marking rubber feet
Molded-in heavy duty handles
Rope Handle with nylon sleeved rubber handle
2" Tiedown slots
Embossed ruler on lid
Rubber Gasket makes a perfect seal
Includes dry goods tray
Lifetime Warranty
Made in USA
IGBC Certification Number 3359
---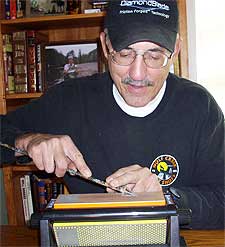 About Tom Claycomb
Tom Claycomb has been an avid hunter/fisherman throughout his life as well as an outdoor writer with outdoor columns in the magazine Hunt Alaska, Bass Pro Shops, Bowhunter.net, and freelances for numerous magazines and newspapers. "To properly skin your animal, you will need a sharp knife. I have an e-article on Amazon Kindle titled Knife Sharpening #ad for $.99 if you're having trouble."
Disclosure: Some of the links below are affiliate links, meaning at no additional cost to you, Ammoland will earn a commission if you click through and make a purchase.