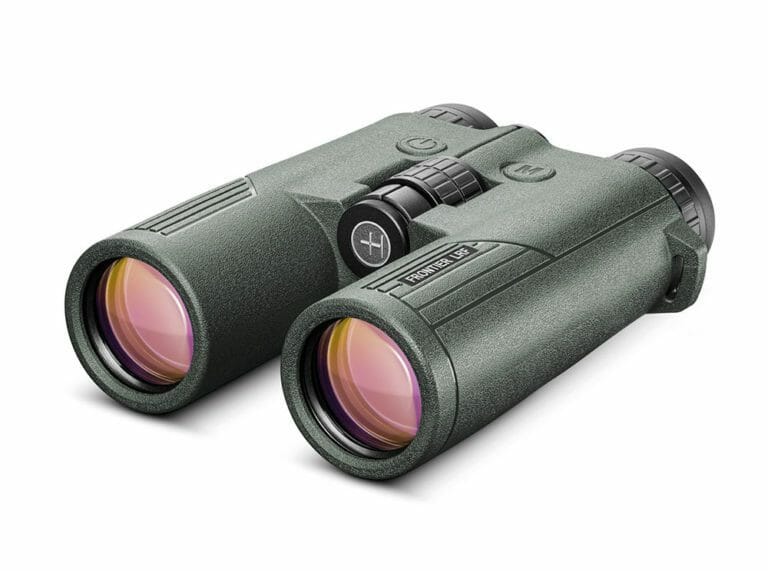 U.S.A. -(AmmoLand.com)- Hawke Optics, a worldwide leader in quality sporting optics that perform outstandingly in the field while maintaining optimum value for the consumer, combines two high-demand products into one. New for 2023, Hawke introduces the Frontier LRF Binocular line. Hawke Frontier LRF Binoculars use high light transmission optics and a red-colored OLED display to make the view to your target clearer than ever before.
Hawke's Laser Range Finders are designed to deliver highly accurate distance measurements with the press of a button. They are ergonomically constructed to fit comfortably in your hand, with easy access to both of the control buttons. The Frontier is part of Hawke's H7 optics, offering stunning high-definition viewing with incredible color control and phase correction. High-performance lens coatings and Dielectric Coated prisms ensure the highest level of light transmission.
As with all Hawke binoculars, the Frontier LRF features water-repellent lens coatings and fully multi-coated lenses to produce sharp images with light transmission and true color optics. A magnesium alloy chassis with soft-touch rubber body armor creates a smooth fit in your hands. The new Frontier LRF features range-finding capabilities, including Distance, Rain, Hunt, Near, Horizontal Distance, and Angle modes. The display brightness can be manually adjusted between 6 levels of brightness. Waterproof to IPX7, fog proof, and accurate +/- 1 yard.
The LRF has been manufactured with an eye-safe CE-approved laser and can be used in shooting, archery, golf, construction, site survey, and many other tasks. It requires a 3V CR2 battery and will automatically turn off after 15 seconds of no operation to save power. Supplied with a MOLLE system, adjustable Binocular Harness Pack, a Padded Neck Strap, and Stay-on lens covers, the all-new for 2023 Frontier LRF Binoculars are a must-have in your gear! This all-new package comes in at an everyday MSRP of $1,329 for the 8×42 model with a range of 11-1,968 yards, and the 10×42 model at $1,439 with a range of 11-2,515 yards.
---
About Hawke
Hawke Sport Optics has served as a leading optics supplier in Europe and more than 40 countries around the world. After establishing its North American distribution center in Fort Wayne, Indiana, in 2007, Hawke set out to bring the #1 optics brand in the UK to hunters and shooters in the United States. Hawke offers a full line of rifle, crossbow, shotgun, and airgun scopes, as well as binoculars, spotting scopes, and accessories. Each product delivering innovation and quality, while offering tremendous value.
To learn more about any Hawke products, visit www.hawkeoptics.com.