Sturm, Ruger Announces New Ruger SR-22 Rifle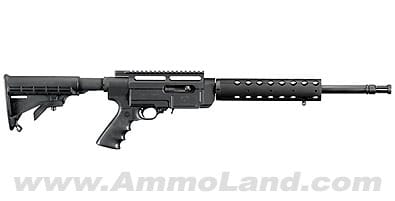 Southport, CT –-(AmmoLand.com)- Sturm, Ruger & Company, Inc. (NYSE-RGR) announces the introduction of the Ruger® SR-22™ Rifle, an autoloading, rimfire rifle that combines the legendary reliability of the Ruger® 10/22® with the ergonomics and configurability of the new AR-style Ruger SR-556™.
The new SR-22 Rifle allows shooters to use economical .22 LR ammunition, while still enjoying the look and feel of an "AR" and experiencing the reliability they have come to appreciate from Ruger.
Because it utilizes the unique rotary magazine supplied with the Ruger 10/22, the SR-22 Rifle offers the same gold standard for reliability in autoloading rimfire rifles. Like the 10/22, the AR-style SR-22 Rifle also has an extensive array of accessories available, allowing shooters to select a custom configuration that best suits their tastes and needs.
The SR-22 Rifle uses a standard 10/22 action inside a top-quality, all-aluminum chassis that faithfully replicates the AR-platform dimensions between the sighting plane, buttstock height, and grip. The SR-22 Rifle provides a Picatinny rail optic mount, and includes a six-position, telescoping M4-style buttstock (on a Mil-Spec diameter tube), plus a Hogue® Monogrip® pistol grip. Buttstocks and grips may be swapped out for any AR-style compatible option.
The SR-22 Rifle also features a round, mid-length handguard mounted on a standard-thread AR-style barrel nut. Picatinny rails, specifically designed for this handguard, are available from Ruger, allowing the handguard to be configured to accept any number of rail-mounted sights or accessories. A barrel support block is installed in the handguard, ensuring accuracy and allowing the standard 10/22 V-block barrel attachment system to be used.
The SR-22 Rifle is equipped with a precision-rifled, cold hammer-forged alloy steel barrel. The 16-1/8″ barrel is capped with an SR-556/Mini-14 flash suppressor mounted with a 1/2″-28 thread.
About Sturm Ruger
Sturm, Ruger was founded in 1949 and is one of the nation's leading manufacturers of high-quality firearms for the commercial sporting market. Sturm, Ruger is headquartered in Southport, CT, with manufacturing facilities located in Newport, NH and Prescott, AZ.
Sturm, Ruger & Co., Inc. "Arms Makers for Responsible Citizens"