Time To Move Support On Some Virgina Gun Bills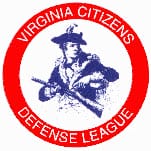 Virginia – -(AmmoLand.com)- Now begins the time where Virginia Gun Owners needs to get very active in letting the Legislature know what we want them to do.
You will be getting important messages like this one throughout the next few weeks as gun bills begin to move and we will need you to take action quickly.
Let's FLOOD the General Assembly with email from gun owners!
There are 13,000 of you on the VCDL VA-ALERT and 1000's more reading this post and we need all of you to make your voices heard. And don't worry, we have made this simple to do.
We need you to start by contacting your Senator on two bills IMMEDIATELY: The Restaurant ban repeal bill and the so-called "Gun Show Loophole" Bill.
We also need you to contact your Delegate IMMEDIATELY on a bill that prohibits guns being banned from locked vehicles in parking lots while at work or otherwise on private property.
Just click on each of the three links below to send a PREWRITTEN (but editable) message to YOUR Senator or Delegate automatically. Fill in YOUR email address (we already know your Senator's and Delegate's email address) and your physical address and, voila, you are done!
Click here to send a message SUPPORTING Senator Hanger's restaurant ban repeal bill, SB 334: https://tiny.cc/restaurant-ban-repeal-bill
Click here to send a message OPPOSING Senator Lucas's "gun show and private sales registration" bill, SB 595: https://tiny.cc/GunShowBill
Click here to send a message SUPPORTING Delegate Pogge's bill, HB 171, that provides that a business cannot prohibit an employee or other person from having a gun in a locked vehicle while parked on the business's property. In return the business gets certain legal protections: https://tiny.cc/gunsincars
About:
Virginia Citizens Defense League, Inc. (VCDL). VCDL is an all-volunteer, non-partisan grassroots organization dedicated to defending the human rights of all Virginians. The Right to Keep and Bear Arms is a fundamental human right. Visit: www.vcdl.org