GUNS Magazine Nov. Issue Reviews Award-Winning Scout Rifle, A Fresh Batch Of 1911s And More

San Diego, Calif. –-(Ammoland.com)- Gun enthusiasts will get an in-depth look at the award-winning new Ruger Scout rifle, four new models of the 1911, plus holiday gift ideas for our troops and more, in the Nov. issue of GUNS Magazine.
Ruger's .308 M77 Gunsite Scout Rifle was designed to be a "general purpose rifle," as inspired by Jeff Cooper, who was involved in the development of the "Scout" concept rifle.
This rifle is a serious multitasking tool.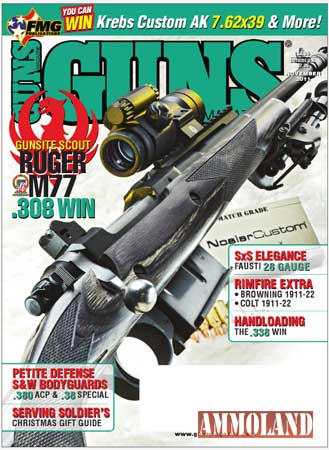 As Holt Bodinson says in the cover article, "Versatility Defined: Ruger's .308 M77 Gunsite Scout Rifle," the rifle "demands to be handled and handy it is with its short 16-1/2″hammer-forged barrel and an out-of-the-box overall length of 38-1/2″."
The Nov. issue brings readers more models of the 1911. In "4 x 1911," Mike "Duke" Venturino takes a look at four new models: Browning's 1911-22 made in Utah; the Colt 1911-22, made in Germany, imported by Umarex USA and finished by Colt; the Regent R100, made in Turkey and imported by Umarex USA; and the Cimarron Arms M1911, made in the Philippines.
For those who have friends and loved ones "deployed forward," John Connor's "For the Serving Soldier" provides readers with a selection of gear any grunt would be proud to own. Also in the giving spirit, this month's "Odd Angry Shot: A Card, A Can, A Plan" presents charities and organizations that help our servicemembers and their families, as well as suggestions of what goodies to send.
Check out the Nov. Gun of the Month giveaway, which features a Krebs Custom AK-103K, built on a Russian Saiga carbine. Included in the package is a custom Wicked Zippo lighter and three high-risk environment training DVDs from Paladin Press, usually only offered to military and law enforcement personnel.
GUNS Magazine's all-digital edition is reaching more readers than ever. It includes a number of bonus features, including expanded content, hotlinks and search options. To sign up for a free subscription, visit www.gunsmagazine.com/digital-editions.
For more information and to read the Nov. issue, visit www.gunsmagazine.com.