GUNS Magazine Goes Extreme With December Issue 2011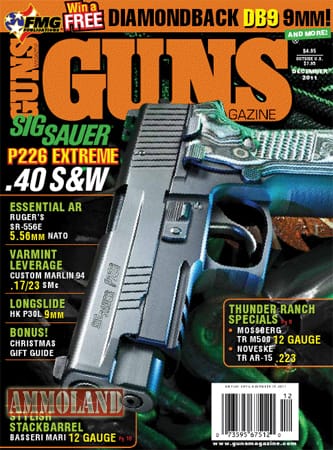 San Diego, Calif. –-(Ammoland.com)- GUNS Magazine kicks off the holiday season with a look at SIG SAUER's new P226 Extreme .40 S&W, 100 years worth of US infantry rifles, the 2011 Christmas Gift Guide and more in its December issue.
John Barsness gives readers an inside look at SIG SAUER's P226 Extreme .40 S&W in "Going Extreme: SIG SAUER P226 Extreme .40 S&W, That Is." Readers will learn why many military units use this versatile semi-auto handgun across the globe.
"Along with compact variations, it serves around the world as a military and police sidearm for a long list of organizations including … the United Arab Emirates Army and the US Navy SEALs who recently visited Osama bin Laden," says Barsness. "It's just about everywhere because it's an extremely reliable and tough handgun."
GUNS Magazine also checks out Ruger's SR-556E in "The 'Essential' AR." Find out why author Mike Cumpston thinks this AR makes a great defensive long gun, as well as being perfect as an outdoor utility gun.
In "A Century of US Army Infantry Rifles," Mike "Duke" Venturino takes a look at 100 years of US Army history, and the wood and steel guns that were used until production stopped in 1963. Duke talks about the different modes of operation, calibers, cartridge loading systems and more as he explores the evolution of infantry rifles.
John Connor makes shopping for friends and loved ones easy this Christmas with his "2011 Christmas Gift Guide." Some of the best new knives, apparel and cool gear are included, along with where to get them — all without setting foot inside a mall!
Be sure to enter for the chance to win the Gun of the Month giveaway. This month's package features Diamond Firearms' DB9 Sub-Compact DAO. Also included are a Crimson Trace Laserguard, GripSwell Gloves, a Benchmade 585 Mini Barrage, an Impact Steel Target Rolling Steel Target to keep your aim in top shape and G96 synthetic lube to keep your gun up and running.
GUNS Magazine's all-digital edition is reaching more readers than ever. It includes a number of bonus features, including expanded content, hotlinks and search options. To sign up for a free digital subscription, visit http://gunsmagazine.com/digital-version/.
For more information or to purchase a print edition of the December issue, visit www.gunsmagazine.com.