Knife Rights v. NYC / DA Vance Lawsuit Update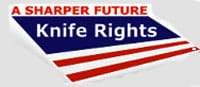 Gilbert, AZ –-(Ammoland.com)- It still isn't safe for honest law-abiding citizens with a perfectly legal knife in their pocket to walk the streets of New York City, or take the subway.
Knife Rights' legal team continues to help new clients who have been arrested and continues to get their cases dismissed, the latest just last week.
But, that still leaves these victims of NYC District Attorney Cyrus Vance Jr's persecution out of pocket a good deal of money, their valuable time (to say nothing of sleepless nights) and the persecution continues.
That's why we filed a Federal Civil Rights lawsuit back in June.
Knife Rights' lawsuit against DA Vance and the City of New York continues to move forward. The State of New York has been dropped as a defendant after it determined that the events occurring in New York City are strictly a New York City issue, rather than an issue of state law. That is good for us.
Recently, the City filed its response to our Complaint, and as expected, DA Vance filed a motion to dismiss the suit. We are presently working to respond to the DA's motion.
The City does not appear to dispute the lawsuit's basic claim that NYPD officers are using New York's "gravity knife" law to prosecute possession of common and ordinary folding knives. As anticipated, it appears that both the City and the DA intend to argue that the "gravity knife" law encompasses one-hand-opening and assisted-opening folding knives, and hence, that the law is not "impermissibly vague" as we claim. That circular argument is no surprise; after all, that's the root of the lawsuit and those are the issues we are prepared to go to trial on.
A magistrate judge has been assigned, which will help move things along quicker (that being a relative term considering this is federal litigation) and Judge Ellis has scheduled a court conference for early November. We are hopeful that we will be able to begin discovery from the City and DA Vance after this conference. No doubt there will be potholes aplenty along this road, but that's how it works when you go toe to toe with one of the most powerful cities and DA in the country. We're up to the fight.
In the meantime, never carry your knife clipped to your pocket in New York City. Even when covered by a jacket, simply moving the jacket aside to get to a wallet has been enough to get folks arrested. Always ensure your knife is completely concealed at all times.
If you are arrested for possession of an "illegal knife" in New York, please contact Knife Rights at: [email protected]
About:
Knife Rights (www.KnifeRights.org) is America's Grassroots Knife Owners Organization, working towards a Sharper Future for all knife owners. Knife Rights is dedicated to providing knife owners an effective voice in public policy. Become a Knife Rights member and make a contribution to support the fight for your knife rights. Visit www.kniferights.org