By Kenn Blanchard
Host of the Black Man With A Gun Podcast.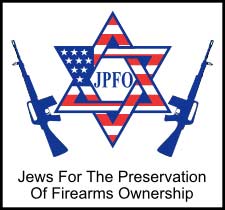 Washington, DC –-(Ammoland.com)- As we entered December, I faced a dilemma. Many of our JPFO members are not Jewish (we don't ask, but members often write to me and include such information), but it is inappropriate for an Orthodox rabbi to send Christmas greetings.

I approached my dear friend and brother Reverend Kenn Blanchard to write to our membership, and he kindly agreed — and asked that I do the same for the listeners of his Urban Shooter Podcast. Reverend Kenn is a true friend, a man who actualizes in me potential that I didn't know I had. May we all be blessed with such friends, and with love and peace.

Rabbi Bendory
Holy Day Wishes
Religious holidays like Hanukkah and Christmas aren't celebrated as holy days very much. I'd like to give you something to consider this season.
We have much to celebrate in spite of the economy, world politics and you-fill-in-the blank issues that plague us. If you are reading this, for example you are doing better than a lot of people.
The celebrations of both Christmas and Hanukkah involve family, lights, and freedom. As it was in ancient times, people are still trying to get others to bow down, or go along, with ideologies that would compromise your freedom. Don't compromise on your faith or on your principles.
Once that light goes out, there is no hope and no help for you. Mattathais took up a sword and battled his way out of a compromise. A young woman submitted to become "the handmaiden of the Lord." Both holidays are about dedication, commitment and fulfillment of promises.
How are you going to stand when the winds of change come?
"It takes more courage to reveal insecurities than to hide them, more strength to relate to people than to dominate them, more 'manhood' to abide by thought-out principles rather than blind reflex. Toughness is in the soul and spirit, not in muscles and an immature mind."- Alex Karras
As members of the pro-gun community it is easy to grow weary in well doing. It is easy to get tired of fighting Aunt Laudy and everybody, but stick to what you know is right. Don't bow down to idols. Keep your lights burning brightly so you can inspire others. Exercise your faith.
This is a season of joy and happiness if you realize that the most important things in life aren't things. This is a time of family and friends. This is a time to rededicate yourself to what really matters in your life. Celebrate the Light of the World. Celebrate the lights of the menorah. Celebrate life!
Merry Christmas and Happy Hanukkah
Rev. Kenn Blanchard
Host of the Black Man With A Gun Podcast, speaker and blogger on kennblanchard.com
PS. I am extremely honored and blessed to call as my friend Rabbi Dovid Bendory. I am humbled for the opportunity to contribute this message. It is my prayer that the Lord bless you and your family this holy day season. Shalom Baby, kb
About:
Jews For The Preservation Of Firearms Ownership Mission is to destroy "gun control" and to encourage Americans to understand and defend all of the Bill of Rights for everyone. Those are the twin goals of Wisconsin-based Jews for the Preservation of Firearms Ownership (JPFO). Founded by Jews and initially aimed at educating the Jewish community about the historical evils that Jews have suffered when they have been disarmed, JPFO has always welcomed persons of all religious beliefs who share a common goal of opposing and reversing victim disarmament policies while advancing liberty for all.
JPFO is a non-profit tax-exempt educational civil rights organization, not a lobby. JPFO's products and programs reach out to as many segments of the American people as possible, using bold tactics without compromise on fundamental principles. Visit www.JPFO.org – Copyright JPFO 2011