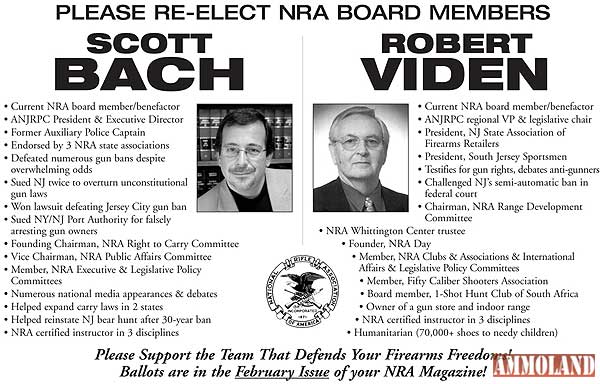 New Jersey –-(Ammoland.com)- Bob Viden and Scott Bach are up for re-election to the NRA Board of Directors.
It is critical to keep Bob and Scott on the NRA Board to ensure that New Jersey has the strongest possible representation at NRA Headquarters.
Your support is vitally needed in the upcoming election. Ballots for voting members will be in the February, 2012 issue of your NRA magazine. See below for more info on Bob & Scott.
If you have not already received your ballot to vote for your choice for NRA Board Members, you will shortly. I would like you to strongly consider both Scott Back and Bob Viden for these positions. It is extremely important that New Jersey maintain its position of having two members from NJ on the NRA Board.
I have known Scott Back since I founded the NJ2AS and he has been continually supportive of our efforts. I wholeheartedly endorse Scott and Bob for re-election to the Board. I hope that you will join with me in voting for our New Jersey representation on the NRA.
---
About New Jersey Second Amendment Society:
Our mission is to promote the free exercise of Second Amendment rights within the community and Legislature of New Jersey, to educate the community regarding the enjoyable, safe, and responsible use of firearms, and to engender a sense of camaraderie and fellowship among the members and their families. Visit: www.nj2as.com