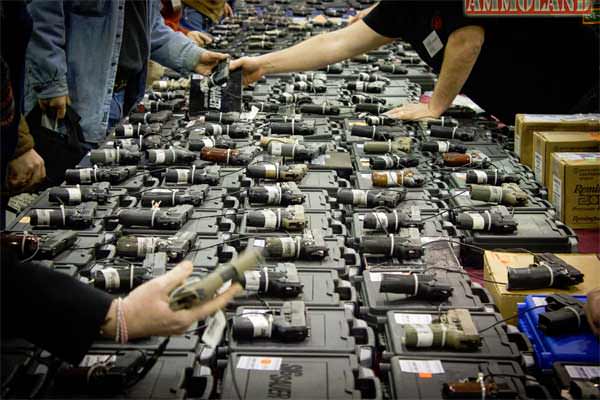 OTTAWA, Canada – -(Ammoland.com)-  The Honourable Vic Toews, Canada's Minister of Public Safety, announced today the Government of Canada's intent to repeal the Gun Shows Regulations.
The Government's proposal to repeal the Regulations will be published in the September 8th, 2012 issue of the Canada Gazette.
The Gun Shows Regulations were introduced in 1998 under the Firearms Act but have never come into force.
"Repealing the unnecessary Gun Shows Regulations shows our Government is focusing on protecting families and communities and not pushing administrative burdens on law-abiding gun owners," said Minister Toews. "We will continue to tackle crime by getting guns out of the hands of criminals and off our streets."

"Allowing redundant regulations to come into force would only introduce an unnecessary burden on law-abiding citizens," said Candice Hoeppner, Parliamentary Secretary to the Minister of Public Safety. "We have successfully introduced legislation that fights gang crime, drug crime, violent and repeat offenders. These are the reforms that Canadians need and deserve most, in order to tackle real crime and real criminals."
After they were introduced, the Gun Shows Regulations were deferred from coming into force to allow for further study and stakeholder consultation. The deferral gave officials the opportunity to explore if there was a need for the Regulations and to identify any overlap with already existing regulations
The Gun Shows Regulations are unnecessary as the storage and display of firearms at gun shows are already governed by the Storage, Display, and Transportation of Firearms and Other Weapons by Businesses Regulations and the Storage, Display, Transportation, and Handling of Firearms by Individuals Regulations under the Firearms Act.
"The sport shooting community is very pleased by the Harper government's repeal of the unnecessary regulations on Canadian gun shows," says Tony Bernardo, executive director of the Canadian Institute for Legislative Action and spokesman for the Canadian Shooting Sports Association. "These rules were never imposed because they were never needed. We were treated like criminals. Kudos to the Harper Government for standing up for the rights of all law-abiding Canadians."

"Many people forget that sport shooting has been with us since the inception of the modern Olympics," says Olympic gold medalist Linda Thom. "Firearms shows are a lifeline for our sport. We are very pleased this government appreciates that gun shows are safe and wholesome sporting venues."

"Like the long gun registry, the gun show regulations introduced in 1998 were an unwarranted intrusion which, if enacted, would have done nothing to enhance public safety. We are pleased that once again the Harper government has demonstrated common sense in its approach to legal firearms by repealing regulations that would have posed an unnecessary burden on lawful activities, and choosing instead to continue focussing on the real sources of crime," noted Greg Farrant, Manager, Government Affairs & Policy, Ontario Federation of Anglers and Hunters.
The Gun Shows Regulations were supposed to come into force on November 30, 2012. With the repeal of these Regulations, gun shows and the security of firearms displayed at gun shows will continue to be regulated by the existing general storage and display regulations for businesses and individuals under the Firearms Act. Firearms regulations related to transfers, possession and transportation of firearms still apply.
---
About CSSA

The CSSA is the voice of the sport shooter and firearms enthusiast in Canada. Our national membership supports and promotes Canada's firearms heritage, traditional target shooting competition, modern action shooting sports, hunting, and archery. We support and sponsor competitions and youth programs that promote these Canadian heritage activities. Website www.cdnshootingsports.org