Joseph Fernandez thankful CGF was there to help, considers legal options against Los Angeles County Sheriff.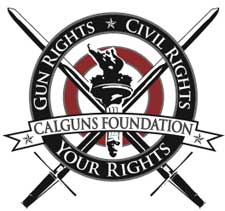 Los Angeles, CA – -(Ammoland.com)- On October 8, 2012, Joseph Fernandez was driving normally down Hawthorn Blvd. when a Los Angeles County Sheriff Deputy pulled him over, alleging that he stopped to warn Fernandez that there was an unknown object hanging from the rear view mirror and that the vehicle was allegedly straddling lanes, both violations of the Vehicle Code.
During the stop, the Deputy asked Fernandez if there were any weapons inside the vehicle. Fernandez informed the Deputy that he had.
The Deputy detained Fernandez and the other vehicle occupants and conducted a search. The Deputy recovered a "locked black gun case." Fernandez provided the code for the gun case, and the Deputy recovered two registered and unloaded firearms, magazines, and ammunition. According to Fernandez, the Deputy believed that the firearms were deemed loaded because the magazines and ammunition were carried in the same case as the firearm.
The Deputy read Fernandez his Miranda rights and arrested him, "due to the fact that the firearms were concealed in a case, that they were readily accessible and within his immediate reach, and that there were two loaded magazines directly next to the firearm which can be quickly and easily loaded into the firearm."
According to Fernandez, only after the Deputy's watch supervisor informed him that the firearms were not "loaded" was he cited for possession of a concealed firearm within a vehicle.
This unfortunate event could have been avoided had the officer been properly trained on the definition of loaded as well as the exemptions to Penal Code section 25400, including Penal Code section 25610(a)(1) which expressly exempts firearms carried "in a locked container."
Significantly, a criminal case was filed by the Hawthorne City Attorney's office against Mr. Fernandez, indicating a lack of firearms knowledge by the prosecutors. Mr. Fernandez contacted The Calguns Foundation, which considered the matter and took on his legal defense.
On December, 18, 2012, Attorney Jason Davis represented Mr. Fernandez in Court. After Mr. Davis discussed the false arrest error in the arrest and complaint and some professional arguing with the City Prosecutor, the City Prosecutor wisely dismissed the case.
After his case was dismissed, Mr. Fernandez stated, "I really appreciate The Calguns Foundation's efforts and that there's someone out there to protect the firearm rights of Californians like me. Few people know the details of California's intricate firearm laws, and even fewer can effectively represent their members and our Second Amendment rights like CGF does."

"Please, support CGF so that they can continue defending innocent California gun owners in circumstances like mine."
Mr. Fernandez is now considering his legal options against Los Angeles.
About CALGUNS FOUNDATION:
The Calguns Foundation (www.calgunsfoundation.org) is a 501(c)3 non-profit organization which serves its members by providing Second Amendment-related education, strategic litigation and the defense of innocent California gun owners from improper or malicious prosecution. The Calguns Foundation seeks to inform government and protect the rights of individuals to acquire, own, and lawfully use firearms in California. Visit:www.calgunsfoundation.org