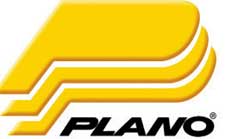 Plano, IL -(Ammoland.com)- Southwick Associates, the nation's premier outdoors market research firm, has announced the brands hunters and shooters purchased most frequently in 2014.
Results were compiled from the 15,685 internet-based surveys completed by hunters and shooters who volunteered to participate last year in Southwick Associates' HunterSurvey.com and ShooterSurvey.com polls.
In 2014, hunters and shooters participating in the surveys said they purchased Plano bow cases more than any other brand.
"Protecting sportsmen's valuable gear has been our company's priority for over 60 years," says Plano Marketing Director, Ben Rand. "We work hard to earn new customers and keep the ones we have," he continues. "We accomplish that by providing the best-performing, most comprehensive line of bow cases, firearms cases and other cases for outdoor gear and accessories on the market today," concludes Rand.
Indeed, Plano manufactures dozens of distinct hard and soft bow cases from its base of operations in northern Illinois – including two new models for 2015.
New Plano Takedown Recurve Archery Cases
Traditional archers trust their instincts – honing their own intuitive shooting styles by nocking, drawing back and releasing thousands of arrows. With enough repetitive practice, the arrow strikes its mark in the archer's mind before it ever leaves the bowstring.
Helping sportsmen keep their valuable gear organized and protected for over 60 years, Plano announces their signature brand of protection for takedown recurve bows, with the release of the 113500 Protector Bow Max Recurve Bow Case and the 11303 Deluxe Bow Guard Recurve Bow Case.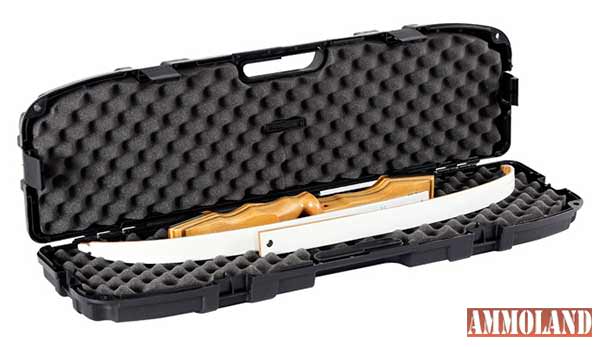 An affordable and durable case for safe storage and transport of your takedown recurve bow, the Protector Bow Max Recurve Bow Case features a high-density foam interior to securely cradle riser, limbs and accessories. Plano's patented PillarLock system adds superior crush-resistant strength, while thick walled construction, heavy-duty latches, molded-in handles and padlock tabs round out this case's features.
113500 Protector Bow Max Recurve Bow Case
Thick-walled construction
Heavy-duty Latches
Patented PillarLock System
High-density foam interior
Airline approved
Dimensions: 36″ x 4″ x 10.75″
MSRP: $39.99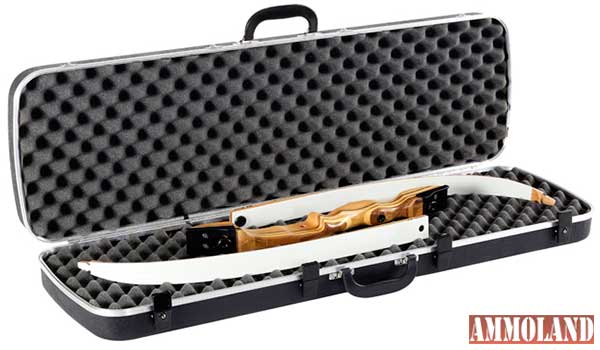 The new Deluxe Bow Guard Recurve Bow Case offers an additional step up in premium protection for traditional takedown bows.
Classic Plano durability is evidenced in this case's thick, molded shell, which wears attractive and utilitarian alligator texturing to combat wear. Further, the lid is molded with a stylish and functional diamond crest to increase rigidity. A full aluminum valence surrounds both case pieces, which are joined by a full-length piano hinge for maximum strength. Other hardware is equally task-minded. Four steel latches – two of which lock with keys – provide security, while twin foldaway handles facilitate easy opening and transport. Inside, interlocking high-density foam forms a secure and rattle-free nest for precious riser, limbs and accessories.
11303 Deluxe Bow Guard Recurve Bow Case
Dual Key-Lock Latches
Foldaway Handles
Aluminum Valence
Full-Length Piano Hinge
Interlocking Foam
Airline approved
Exterior Dimensions: 38″ x 12.5″ x 4.5″
Interior Dimensions: 37.5″ x 11.25″ x 3.88″
MSRP: $99.99
The traditionalist always finds beauty in fundamental simplicity. A tool that performs its intended job with efficiency will always be appreciated – whether it's a fine takedown bow or the vessel that guards it from damage.
Protect your tradition with one of two new Plano traditional takedown bow cases.
Plano Hunting
Innovation and quality are the traits that have become associated with the Plano brand. Thousands of hunters and shooters have come to trust Plano for the storage of their firearms, bows and hunting accessories. Since 1952 Plano has been supplying outdoor enthusiast with storage solutions that allow them to make the most of the time they have outdoors.
For more information, please visit www.PlanoMolding.com.