By David Codrea

USA – -(Ammoland.com)- "Once again America grieves over a senseless tragedy caused by a mentally deranged dangerous person committing a horrible multiple murder with the use of a firearm," the Independent Firearm Owners Association ( IFoA ) declared Thursday in a media statement prepared in response to the Roanoke murders.
"Once again the Pavlovian reaction by many politicians and their media cohorts is to focus on more 'gun control."
True enough. Add to that no shortage of rage directed at those who defend the right to keep and bear arms accompanied by frenzied opportunistic blood dancing and demands that "we do something," unspecified, naturally, and it looks like it's once more time for gun owners to hold fast and not give an inch.
Except the gun group perceives changes to firearms laws can be made. And it apparently assumes we on the "shall not be infringed" end of the spectrum are going to be OK with that.
"We at the 'IFoA' support useful 'gun control' legislation calculated to keep guns out of the hands of violent criminals, unsupervised juveniles and dangerously confused, mentally ill individuals," the statement continues.

"We vigorously oppose 'feel good,' uninformed, 'do something' proposals that are irrelevant to the problems we face or worse, interfere with the increasingly important, constitutionally protected rights of hundreds of millions of Americans who commit no crimes, never misuse guns, and have every moral, legal and practical reason to own and use firearms for protection, sport, hunting or collecting."
The statement and its follow-on seem contradictory. What "gun control" is "useful" and how does that square with a definitive study in the Harvard University Journal of Law & Public Policy by criminologist and constitutional lawyer Don B. Kates, and criminologist and professor Gary Mauser.
"In 2004, the U.S. National Academy of Sciences released its evaluation from a review of 253 journal articles, 99 books, 43 government publications, and some original empirical research. It failed to identify any gun control that had reduced violent crime, suicide, or gun accidents," Kates and Mauser explain.

"The same conclusion was reached in 2003 by the U.S. Centers for Disease Control's review of then‐extant studies."
Does IFoA have something new and definitive they wish to throw into the mix? And why is "defense of freedom" not even mentioned alongside the other "reason[s] to own and use firearms"?
IFoA then refers us to a statement it put out in 2013, when the group's "president, Richard Feldman, met at the White House with Vice President Biden after the Newtown massacre," and asks "what's changed?'
Nothing as far as end game goals of the antis and attempts to treat with them are concerned.
"Let's agree upon a return to public civility," is the first recommendation. "We are all concerned Americans and we must be considerate of each other and address these issues in a rational and adult fashion."
Yes and no.
There's a time and a place for courtesy, but there is no one-size-fits all tactic for everyone to follow. Respect is something that's earned. Ignorant bigots hurling misplaced blame and venomous insults merit no courtesy. And the ones who know full well what they're doing – the professional rights rapists –are simply evil, and deserve to be called what they are.
This isn't a debating society. The enemies of liberty – and make no mistake, that's what they are – want nothing short of a government monopoly of violence. They're willing, and then some, to deploy the power of the state to enforce their will, and to crush anyone who opposes them, using the full continuum of armed force options.
Why do you think they want our guns so badly?
Next time, let's take a detailed look at IFoA's "useful gun control" recommendations. Do you think they just might be debatable?
I do.
Also see: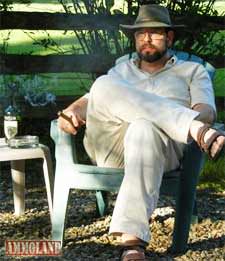 About David Codrea:
David Codrea is the winner of multiple journalist awards for investigating / defending the RKBA and a long-time gun rights advocate who defiantly challenges the folly of citizen disarmament. He blogs at "The War on Guns: Notes from the Resistance," and also posts on Twitter: @dcodrea and Facebook.