Innovator of Tactical Gear Releases New First Responder System, Jackets and Long Sleeve Concealment Shirt
Modesto, CA -(AmmoLand.com)- The 5.11 Tactical Fall/Winter 2015 collection is designed for optimum performance in the demanding situations that first responders face every day.
As 5.11 Tactical continues to expand its product line, it remains dedicated to meeting the ever-changing needs of duty-driven professionals with innovative and highly functional gear. The latest additions to its product line build on the company's continued success of bringing the highest quality products to customers, based on specific needs and uses.
A few of the new products 5.11 Tactical is proud to introduce this season include:
UCR System—inspired by the men and women who are first to the fight and first to give aid, the UCR System supports the Hartford Consensus' second and third actions within the THREAT Protocol, which are hemorrhage control and rapid extrication to safety. The system is composed of four pieces – the UCR Slingpack, the UCR Thigh Rig, the UCR IFAK Pouch and the UCR Litter. MOLLE and webbing platforms allow for easy integration of each piece into your existing loadout. Designed to be highly versatile, the UCR Slingpack serves as a robust EDC pack in addition to a first-rate tactical medic's bag. The UCR Slingpack is equipped with adjustable padded internal organization and loop-sided lining for customization.The UCR Thigh Rig is engineered with space to carry 1-2 blowout kits, essentials and a pair of AR magazines while providing ready access to hemorrhage control supplies. The back of the Thigh Rig features a low profile pocket and mesh for breathability. The UCR IFAK Pouch holds a blow-out kit and medical essentials and attaches to a vehicle's headrest or any MOLLE or webbing platform. Finally, the lightweight and packable UCR Litter allows one to four people to carry an injured person to safety. (UCR Slingpack: $134.99 MSRP; UCR Thigh Rig: $47.99 MSRP; UCR IFAK Pouch: $37.99 MSRP; UCR Litter: $79.99; all UCR products available in Black, Storm and Sandstone)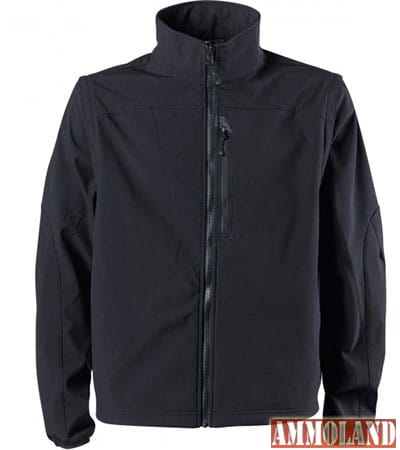 First Responder Jackets—the First Responder Jacket and Hi-Vis Jacket from 5.11 Tactical are the latest additions to 5.11's Next Level Uniform, offering extreme weather protection with a design built specifically for first responders. Both jackets are integrated with the Quixip System, which allows for added ventilation and quick access to a sidearm or belt gear. Ready for any environment, the jackets are fully seam-sealed, waterproof and resistant to blood-borne pathogens. Both jackets include a softshell liner that easily converts into a vest in addition to storm flaps, adjustable cuffs and a removable hood. (First Responder Jacket: $344.99 MSRP, available in Black and Dark Navy; Hi-Vis Jacket: $349.99 MSRP, available in Range Red, Royal Blue and Dark Navy)
Covert Flex Long Sleeve Shirt—engineered for high-performance, sporting a professional look and modeled after the popular Covert Flex Short Sleeve, this long sleeve version uses the same moisture wicking, quick drying, two-way mechanical stretch fabric for greater range of motion. The RAPIDraw placket provides quick access to a concealed firearm, and hidden mesh utility pockets at the chest keep contents safe in the toughest conditions. ($74.99 MSRP, available in Storm and Imperial).
To find a store where 5.11 Tactical products can be purchased, use the 5.11 Tactical store locator. For more details on product offerings, view the Fall/Winter 2015 Catalog.
Media interested in speaking with a 5.11 Tactical spokesperson should contact [email protected].
About 5.11 Tactical:
With offices around the globe, 5.11 Tactical works directly with end users/operators to create purpose-built apparel and gear designed specifically to enhance the safety, accuracy, speed, and performance of first responders and tactical enthusiast worldwide. 5.11 Tactical products exceed rigorous and exacting standards, which have allowed the brand to establish a reputation for innovation and authenticity, and become the premier choice for Duty-Driven professionals. Connect with 5.11 Tactical on Facebook, #511tactical, Twitter @511Tactical and on Instagram @511Tactical.
Learn more about 5.11's best-selling tactical gear and accessories at www.511tactical.com.