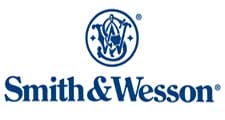 Springfield, MA -(AmmoLand.com)- Smith & Wesson is now offering factory-installed green Crimson Trace Laserguard sights to four more of its highly acclaimed M&P Series pistols, offering enhanced versatility and security to personal protection firearm owners.
Smith & Wesson M&P Series pistols now available with factory-installed green Crimson Trace Laserguard sights include the M&P 9mm (full-size and compact) as well as the M&P .40 S&W (full-size and compact) models. The latest additions round out the complete line of M&P products, all of which are now available with green Crimson Trace lasers. The full list also includes the previously released M&P9 and M&P40 Shield along with the M&P BODYGUARD .380. The increased number of M&P models with factory-installed green Crimson Trace lasers represents Smith & Wesson's continuing effort to provide shooters with the most effective and versatile personal protection handguns on the market.
Jan Mladek, General Manager of the M&P Brand for Smith & Wesson, said, "With the addition of Crimson Trace green Laserguard sights on the full-size and compact M&P models, we now offer consumers the opportunity to own four different handgun models all available with the green laser sight. Research has shown that the human eye can more easily distinguish a green laser sight in areas with high amounts of ambient light, making green ideal for daytime use. The addition of the green Laserguard increases the versatility of the M&P Series of personal protection pistols."
On the new M&P full-size and compact pistols, the green Crimson Trace Laserguard sight is attached to the trigger guard and offers the Instinctive Activation button on the front of the pistol grip. Equipped with windage/elevation adjustment and a master on/off switch, the green laser sight delivers a two-hour runtime on a single 1/3N 3V lithium battery. The internal features and specifications of Crimson Trace green laser-equipped M&P pistols mirror those of their standard M&P Series counterparts.
For more information on the entire line of M&P models now available with Crimson Trace Green Laserguards, please visit www.smith-wesson.com.
About Smith & Wesson:
Smith & Wesson Holding Corporation (NASDAQ Global Select: SWHC) is a U.S.-based leader in firearm manufacturing and design, delivering a broad portfolio of quality firearms, related products, and training to the global military, law enforcement, and consumer markets. The company's firearm division brands include Smith & Wesson, M&P, and Thompson/Center Arms. As an industry leading manufacturer of shooting, reloading, gunsmithing and gun cleaning supplies, the company's accessories division produces innovative, top quality products under Battenfeld Technologies, Inc., including Caldwell Shooting Supplies, Wheeler Engineering, Tipton Gun Cleaning Supplies, Frankford Arsenal Reloading Tools, Lockdown Vault Accessories, and Hooyman Premium Tree Saws. Smith & Wesson facilities are located in Massachusetts, Maine, Connecticut, and Missouri.
For more information on Smith & Wesson, call (800) 331-0852 or log on to www.smith-wesson.com.